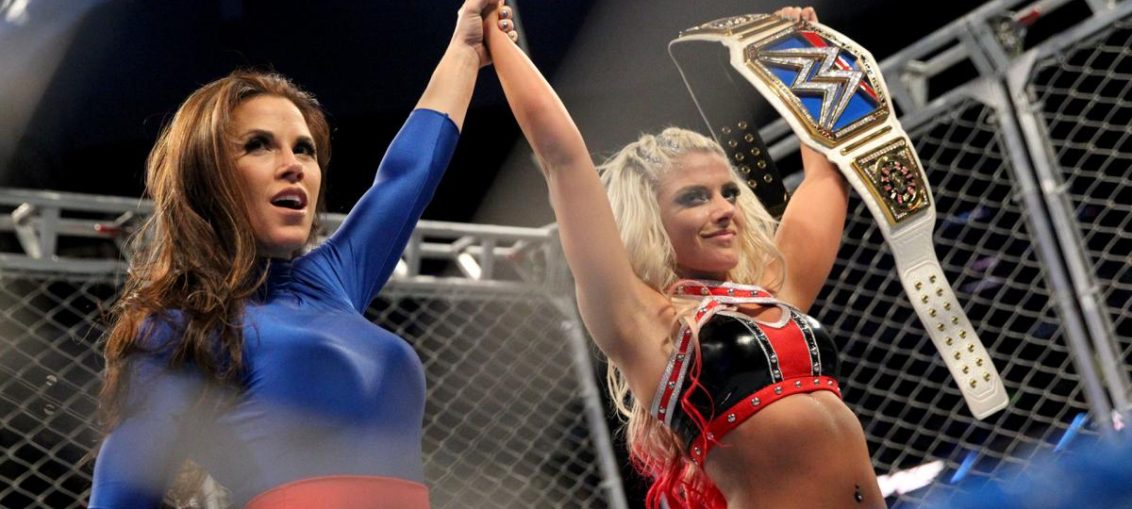 Last night on SmackDown it was a pretty disappointing episode for a change. However, that being said it did have a couple of intriguing elements I will provide you with a brief recap as well as the results.

Made History
The Women on SmackDown made history once again this time it was in a steel cage match. Women's Champion Alexa Bliss defended her title against Becky Lynch. These two women did not hold anything back they delivered another instant classic. Becky Lynch connected BexPLODER T-bone Suplex on Alexa Bliss off the second rope. Irish Lass Kicker was about pick up the win via an escape from the cage.
However, La Luchadora had different plans. blocked the door. She kicked Lynch in the head after she applied the Dis-arm-her to Bliss. This allowed Bliss to connect with DDT and she was able to retain the SmackDown Women's Championship. After the match, Bliss and La Luchadora continued their beatdown on Lynch. Becky Lynch ended the mystery she unmasked La Luchadora and it was Mickie James!
Groundbreaking announcement
SmackDown LIVE Commissioner Shane McMahon kicked off the show with a major announcement. The SmackDown LIVE would have its next pay-per-view event, Elimination Chamber, which will feature a  WWE Championship match in the unforgiving structure.
Jerry Lawler Homecoming
SmackDown was in Memphis there is was only right to have Jerry "The King" Lawler to make a special appearance on SmackDown LIVE. Jerry Lawler had his talk show, called "King's Court," with his special guest Dolph Ziggler. Lawler attempted to ask Ziggler questions about Dolph Ziggler recent attitude change.
However, Dolph Ziggler was not answering any questions. Ziggler instead he showed a clip of when Ziggler gave Lawler multiple elbows drops before Jerry "The King" Lawler had a heart attack. The WWE Hall of Famer Lawler to called The Showoff a loser this was a bad idea. Dolph Ziggler snapped and gave a SuperKick to Lawler Chest and Ziggler walked to the back.
SmackDown results
AJ Styles and The Miz ended in a no contest John Cena gave an attitude adjustment to both The Miz and AJ Styles. Natalya and Nikki Bella assaulted each other at the merchandise table.
Dean Ambrose defeated Randy Orton via a roll up.
All photos were taken courtesy of the WWE
Follow me on Twitter @Nino_416