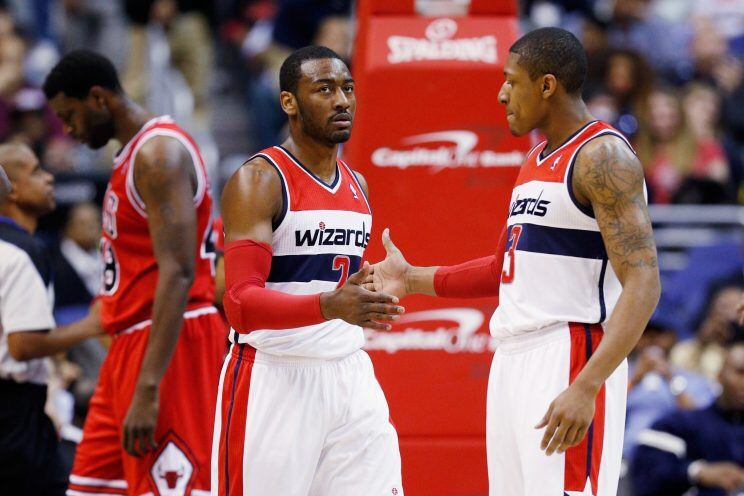 There are many ways you can describe last night's game between the Washington Wizards and Portland Blazers. Portland's guard CJ McCollum bluntly summed it up in just a few short words. "They beat our ass." Yes, that's an accurate description in the 120-101 rout of the Blazers and no there really isn't any explanation as to why they lost this game. However, for the Blazers, they did not want to start their East Coast road trip on a somber note. Yet, for Washington, this was a perfect way to extend their home winning streak on the Martin Luther King Jr. holiday.
.@CJMcCollum "they beat our ass" #ripcity #wizblazers pic.twitter.com/GtlBtTvrqE

— Joshua A. Vinson (@TheJoshAVinson) January 16, 2017
Wall/Beal vs McCollum/Lillard:
Long gone are the days during the offseason when people speculated John Wall and Bradley Beal were "beefing." These two have been the workhorses of this Wizards team keeping them in the playoff picture. They had the daunting task of stopping CJ McCollum and Damian Lillard. As mentioned, this task would be anything but easy. However, a quick 10-0 start for the Wizards made things that much easier. Despite the high power offense, defense still wins games. McCollum and Lillard struggled from the field shooting a combined 11-for-29, 37% for 34 points. It's worth mentioning that McCollum did find himself in foul trouble early in the game.
Wizards accomplished the task of controlling the high-powered backcourt of Lillard and McCollum. Beal and Wall not only did things on the defensive end but also capitalized offensively. The two combined for 49 points and shooting roughly 60% from the field. By the end of the third quarter, the Wizards would find themselves up 101-77 over Portland and never looked back.
The emergence of Kelly Oubre:
There's a saying that goes, "Teamwork makes the Dream work." Well, when the Wizards bench shows up to a game, it's hard to beat this team. Kelly Oubre got off to a hot start and finished the night with 18 points in 28 minutes. The bench overall contributed nicely. Tomas Satoransky had 10 points shooting about 57%. Oubre's defense continued to be a problem for the Blazers. Add that to Satoransky's 10 rebounds and this second unit was prepared to be successful. However, midway through the fourth, Wall and Beal did have to come back in the game as the Blazers were starting to gain a little momentum. Oubre talked about being consisted and keeping this type of energy on the court when the team is on the road.
"Energy," Oubre said when asked about how he could contribute this way on a nightly basis. He then added, "You just have to bring energy each and every night. Carry out (the) game plan and just do the things I did tonight that helped me be successful." 
. @KELLYOUBREJR talking about consistency and having this type of energy on the road #dcfamily pic.twitter.com/DYR6h9UndC

— FOX Sports Radio1340 (@1340AMFOXSports) January 16, 2017
Looking Ahead:
Now the Wizards have won 12 straight games at home. They haven't lost at home since early December. They'll host the Memphis Grizzlies on Wednesday before heading off to New York to start their road trip. Last time the Wizards and Grizzlies met the Wizards were a different team. They allowed Memphis to shoot 15-for-31 from behind the arc. In addition, the Wizards were outscored in overtime 12-3. Beyond Wednesday's game, the Wizards need to bring this energy on the road to New York and Detroit later in the week. For this team to be competitive and be taken seriously, playing "part-time" basketball is unacceptable at this point. We are midway through the regular season. Grizzlies and Wizards will play at the Verizon Center on Wednesday at 7 pm.