Entering 2016, Cleveland experience decades of disappointment. They even made a documentary about it. But then, the Cavaliers did the unthinkable and erased a 3-1 deficit against the record setting Golden State Warriors to win their first NBA Championship in Franchise history. If that was not enough, the Indians, a banged up Indians use the next man up mentality going into the playoffs. The Cleveland Indians did the unthinkable, defeating three of the hottest teams to win the World Series. Here is @BrianHWaters with the story.
Cleveland Reigns Supreme Again
That was the last time the Indians were in the World Series.
On that night, the trophy was on its way to their Clubhouse, instead Jose Mesa blew the game and the rest is history.
Not just Indians fans, but Cleveland fans experienced disappointment every year.
But then something magical happened
Their favorite son returned home after defecting to Miami.
Once again, the city had hope.
It was only a manner of time before the championship drought that lasted decades would end.
Summer of 2016, history was made! The Cleveland Cavaliers erased a 3-1 deficit and defeated the 73-win Golden State Warriors.
Winning is contagious right?
But who picked the Cleveland Indians to win the World Series?
Yes, they have one of the games best strikeout pitchers, but they have been boggled with injuries.
Can they really win the World Series
In the ALDS, they sent
Big Papi into retirement by eliminating the Boston Red Sox
In the ALCS, they faced a red-hot Toronto Blue Jays and due to Miller-time "circumstances" the Indians won the AL Pennant
The task would not get any easier. Up next, the 103-win Chicago Cubs!
It's Kluber time. He was just unhittable! Sorry Chicago but 
And yes finally we can say, The Cleveland Indians have won the World Series!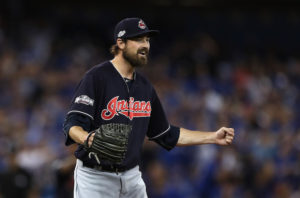 What could have been, but hey Cleveland, there is always next year.