Jon "Bones" Jones: The Road to Redemption Begins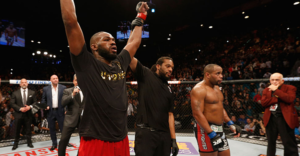 Former two-time UFC Light Heavyweight Champion Jon 'Bones' Jones (22-1) has sparked further speculation that he will officially face off against current reigning and defending UFC Light Heavyweight Champion Daniel Cormier (19-1) in a highly awaited main event clash at UFC 214 inside the Honda Center in Anaheim, California on June 29.
Jon "Bones" Jones defeated Daniel Cormier via Unanimous Decision in a high-profile inaugural showdown at UFC 182 in Las Vegas, NV inside the MGM Grand Arena on January 3, 2015; Jon 'Bones' Jones' UFC 182 first showdown with Daniel Cormier was officially voted as the Fight of the Night.
The anticipated road to the main event clash at UFC 214 has indeed witnessed an intense war of words between both the ever-competitive Jon 'Bones' Jones and Daniel Cormier; Daniel Cormier was the Strikeforce Heavyweight Grand Prix Champion and competed at the Athens 2004 Olympic Games.
"Take the fight with me, Jon Jones," Cormier said. "There are no tune-up fights in the UFC. Try to get your title back. Come meet your boy 'DC,' come get this money. Let's get money together and give the people in Anaheim a show. No tune-up for Jon Jones, he gets to come and get beat by me this time. We're fighting right now or he doesn't get to fight me. It's my rules, I'm the champ now."
However, number two ranked Daniel Cormier has also set his sights on number seven ranked Jimi Manuwa (17-2) thereafter defeating the now-retired Anthony "Rumble" Johnson (22-6) on April 8 at UFC 210 inside the KeyBank Center in Buffalo, New York although it is the lucrative encounter with Jones which has the sports universe buzzing.
"The person that we saw against Ovince Saint-Preux is the new USADA-regulated Jon Jones. He's always going to look like that. Yes, I will beat him up on July 29." Cormier added.
Former number one ranked UFC pound-for-pound athlete Jon 'Bones' Jones, who is currently serving a one-year suspension for doping allegations courtesy, will witness the talented 29-year-old New York native have an inspirational shot at redemption in successfully aiming to reclaim both his reputation in the division and ultimately the coveted UFC Light Heavyweight Championship for a third time in his successful career against current reigning and defending UFC Light Heavyweight champion Daniel Cormier.