The stars were aligned and Lonzo Ball fell right into the Lakers lap. The Lakers selected Lonzo Ball with the second overall pick in 2017 NBA Draft. Here are my overall thoughts on Lonzo Ball going to the Lakers.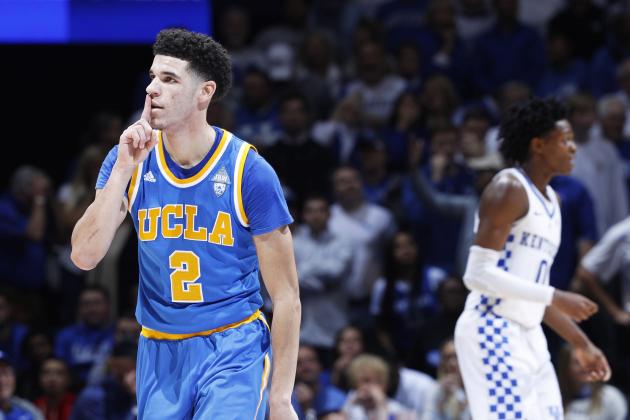 Playmaker
Lakers have been a disaster for years with horrible management decisions from Jim Buss and Mitch Kupchak. Now with the perfect management structure under the version of Magic Johnson now in charge. It is a match made in heaven as the Lakers are in desperate need of star players.
Ball is the perfect fit he is getting comparisons to a living legend in Magic Johnson. Now it's a stretch that he will live up that comparison which is impossible to achieve. However, Ball will bring the swagger back to the Staples Center which is long overdue in Los Angeles.

Stats
As a freshman at UCLA Lonzo Ball averaged 14.6 PPG 55% shooting from the field. Ball shot 42% from deep 7.6 APG 6 RPG and 1.8 SPG. Ball should average similar on a very young Lakers team that loves to run up and down the floor just like at UCLA.

Buzz
The Lakers are starting to looking like they have a respectful team with the acquisition of Brook Lopez and trading D'Angelo Russell. These sudden moves give Ball complete control to lead the Lakers moving forward in the future. The spotlight will be on the Lakers all season watching Ball on a nightly basis.
Lakers brand
Hate or love him Lonzo Ball will always generate buzz. Ball will make the Lakers a must watch team all year long. The Clippers have been far supremacy than the Lakers for the last four years. No matter what the Clippers do the Lakers will always run Los Angeles. Depending on the Lakers overall success and the chemistry that Ball develops with the Lakers players. He could attract free agents with his high basketball IQ and his pass first mentality. Paul George and LeBron James a few free agents next year something to keep track of.
Conclusion
LaVar Ball is no stranger to controversy and making headlines. Last night, LaVar declared that his son will lead the Lakers to the NBA Playoffs in his first year. The Lakers will be an intruging team to watch they are moving in the right direction bringing back prestige to the franchise.
Follow @Nino_416 on Twitter
Photos courtesty of Lakers, Bleacher Report, Sports Illustrated and Hoops Habit