Humble beginnings
Back in 2013, Neymar made the transition from his childhood club in Brazil Santos to Barcelona. It was a start of a new era for Barcelona, At the time, £50 M was paid for the Brazilian striker, Neymar smashed records at Santos he tallied 136 goals.
Supporting cast
Neymar did not have help like this before in his young career. He had a decent start to his Barcelona he scored 15 goals and had 11 assists. This was only the beginning of an impressive showing at Barcelona.

MSN
Back in the summer of 2014, Luis Suarez made the jump from Liverpool to Barcelona. Messi Neymar and Suarez formed a trio it was called MSN. The trio left their mark on world football when they scored 364 goals during their time with the club.

Breakthrough
The 2015/16 season Neymar had his break through the season he scored 31 more goals and another domestic double. It was the first time that he was nominated for the Ballon d'Or award. However, he finished in third place behind Ronaldo and Messi.

Homecoming
In the 2016 summer Olympics on home soil, Neymar led the Brazilian team to their first ever Olympic gold in the Maracana Stadium. He cemented his legendary status with a free-kick goal and the winning penalty in the final's shoot-out to defeat Germany.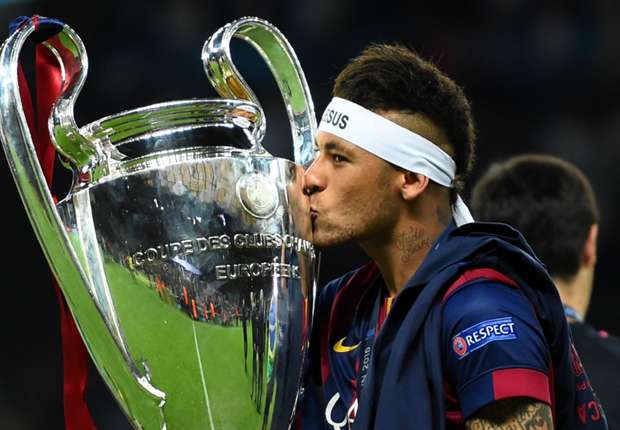 Trophies
At Barcelona, Neymar achieved so much success as he won numerous titles during his time with the club.
La Liga: 2014–15, 2015–16
Copa del Rey: 2014–15, 2015–16, 2016–17
Supercopa de España: 2013
UEFA Champions League: 2014–15
FIFA Club World Cup: 2015
Struggling
The 2016/17 season wasn't a season to remember for Barcelona fans. As Real Madrid won the La Liga and UEFA Champions League trophies. As a result, Luis Enrique was fired as Barcelona's manager for failing to live up to expectations and deliver trophies.
History
Barcelona did the impossible when they made one of the greatest comebacks in The UEFA Champions League. In the quarter finals, they took on Paris St Germain. The first game Barcelona got smashed 4-0. The second game was a game to remember pulled off the greatest comeback in recent memory. PSG managed to choke against Barcelona as they lost 6-1 and on 6-5 aggregate. Neymar scored a beautiful free kick that changed the overall momentum of the game in Barcelona favor.
Conclusion
Neymar decision to leave Barcelona did not surprise me because it was bound to happen. Barcelona fans are angry at Neymar's departure and they have the right to be because Neymar was a cruical piece to the club. He left his mark in club history in such a short time he appeared in a total of 186 games where he scored 105 goals. Neymar is going through another transition period during his young career. However, but this time he is coming for the throne and the number one spot in world football.
Stats were provided ESPN FC
Photos courtesy via ESPN FC, Telegraph, Mirror UK, Reuters, Metro, FIFA, Daily Mail and Goal
Follow @Nino_416 on Twitter