USA vs World: NBA Rising Stars Challenge
In this year's Rising Stars Challenge, we could have the most competitive game to date. When the NBA changed the format from Rookies vs Sophomores to the USA vs World, most worried the game would lose luster. But this year, we have two elite teams on both sides that are full of talent. This could be the first year we have two players make the Rising Stars Challenge and the NBA All-Star game. Former Rookie of the Year Karl Anthony-Towns and current ROY front-runner Joel Embiid are both in contention for NBA ASG roster spots. But just like every year, there are a few snubs from the Rising Stars Challenge.
Team USA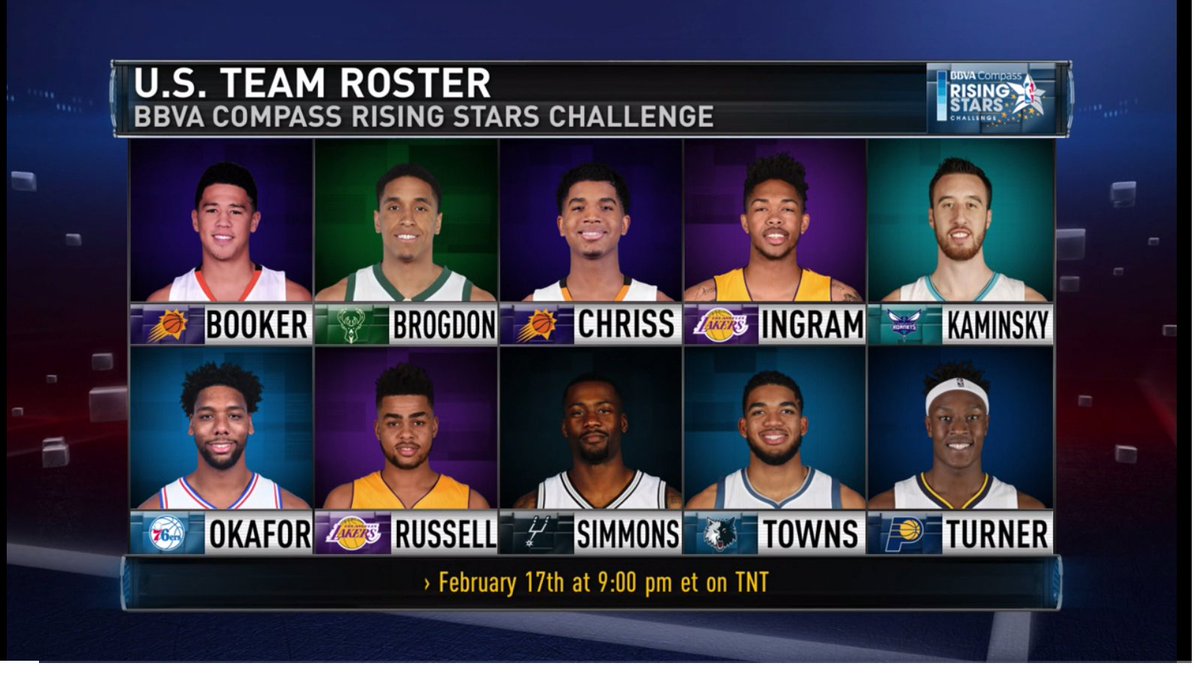 Both teams are constructed of 4 backcourt players, 4 frontcourt players, and 2 swingmen. Their 4 backcourt players are Malcolm Brogdon, Devin Booker, D'Angelo Russell, and Jonathon Simmons. Brandon Ingram and Marquese Chriss are the two swingmen. And the 4 frontcourt players are Frank Kaminsky, Myles Turner, Karl-Anthony Towns, and Jahlil Okafor. Devin Booker is the guard to have your eye on. He is a 3-point marksman and could score 30+ points in this game. Also, Karl Anthony-Towns is liable to put on a real show. He has an array of mid-post moves and is fun to watch operate. If Team USA wins, Towns or Booker could be the MVP and continue to put the world on notice.
Team USA Snubs
"Snub" is a harsh word for a game that's supposed to be all in fun. But there are a few players I'm sure fans would want to see perform and the NBA should look to expand the rosters. Talents like Jaylen Brown from the Celtics, Kelly Oubre Jr. from the Wizards and Sam Dekker from Houston are all worthy mentions. These three players have played great basketball and also have exciting games from big time dunks to long-range 3-point shots.
Team World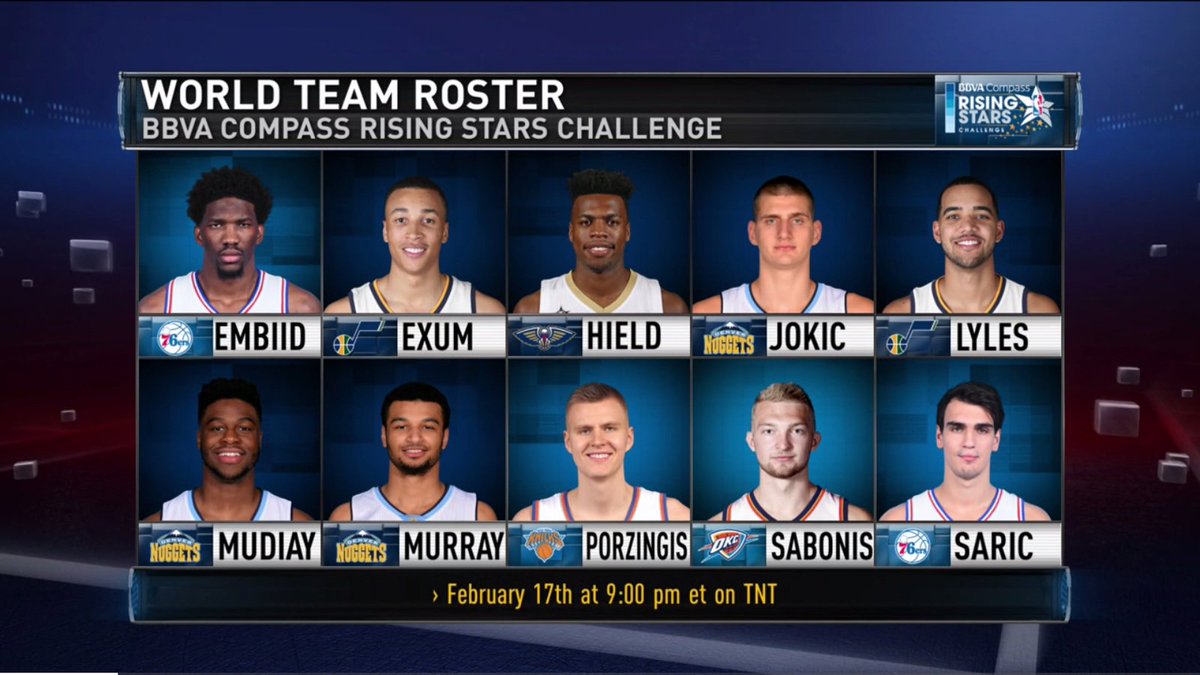 This World team is the best since this format began in 2015. Fans predict that Team World will win this matchup due to their range of talent. Danté Exum, Buddy Hield, Emmanuel Mudiay and Jamal Murray are the backcourt listed for Team World. The swingmen are Trey Lyles and Domantas Sabonis. And the frontcourt players are Kristaps Porziņģis, Dario Šarić, Joel Embiid, and Nikola Jokić. Two impact players could be Jamal Murray and Joel Embiid. Jamal Murray has the tools and skills to put up high scoring numbers. On the other hand, Joel Embiid loves to entertain fans with his antics on and off the court. But he's more than that, he has a multitude of post moves and with his added 3-point, could be the MVP of this game.
Team World Snubs
I know I know, snubs shouldn't be used but it's appropriate because these players are also worthy. Players like Willy Hernangomez, Ivica Zubac, and Mario Hezonja could have also made this team. Zubac and Hernangomez are two young upcoming big men that have been playing well as of late for the Lakers and Knicks respectfully. And Mario Hezonja is a long range shooter with quickness on the wings.
The USA vs World: Final Predictions
In general, this game isn't one that draws major attention like the NBA All-Star Game. But if you haven't watched any other year this is the year to watch. We have loaded match-ups all over the floor but my emphasis will be on the frontcourt players. We could have 2 current 76ers teammates going head-to-head in Joel Embiid for Team World vs Jahlil Okafor for Team USA. Also, we could have a battle of premier players in Kristaps Porzings for Team World vs Karl Anthony-Towns for Team USA. No doubt this should be a great game of potential All-Stars. If I had to pick one team, I think Team World could shock everyone and pull off an upset. This should be a high-scoring game in the upper 90's or 100's and could be the best Rising Stars Challenge we've ever seen.