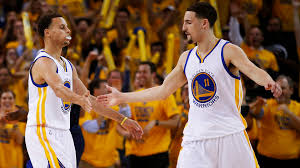 Golden State opened their second round of play with a 106-94 win over Utah. The Jazz did not have a lead during any portion of the game. The Warriors once held a 21 point lead during the contest as well.
GSW's starters all scored in double figures. Durant and Green both scored 17 points. Thompson added 15 points with Zaza adding 10 as well. Per usual, Curry led his team in scoring with 22 points.
???? pic.twitter.com/28m07tyFez

— GoldenStateWarriors (@warriors) May 3, 2017
On TV, this game was a mismatch. But on paper, Utah will give some problems to this Warriors team. Utah outrebounded and had more hustle than the Warriors. But the Warriors ability to gain fouls and their lack of turnovers helped them out. GSW is facing a team that had everyone score during the first game. Also, Utah has a full roster just like GSW as well.
Some ? ? moments to get round 2 started. #StrengthInNumbers pic.twitter.com/yuCw7tq83v

— GoldenStateWarriors (@warriors) May 3, 2017
The next game for this series will be on Thursday Night.