The 2017-2018 NFL season is full of intrigue going into Week one of the regular season.
NFL Teams excluded from this list are the likes of the Dallas Cowboys and Oakland Raiders because even though they're close something's missing. There's plenty of talented teams in the league but only few will rise to the Cream of the Crop. Below I will list the top five teams heading into the beginning of this NFL season.
#1 New England Patriots
Tom Brady and the defending champ Patriots are currently the best team in the NFL. Additions of CB Stephon Gilmore and WR Brandin Cooks makes them a scary opposition. Besides losing Rob Ninkovich to retirement and Julian Edelman to a knee injury, this team is once again loaded. With the future Hall of Fame Quarterback still under center and head coach Bill Belichick scheming up the gameplan, look for New England to return to defend their Super Bowl title.
#2 Seattle Seahawks
The Seattle Seahawks are primed to return to the promise land this season. Adding Eddie Lacy to their offense will give them depth and also helps when getting those crucial first downs. Plus trading for former Pro Bowl defensive tackle Sheldon Richardson will give their defense that much needed boost. Head coach Pete Carroll along with Super Bowl winning QB Russell Wilson should be able to lead this talented team if they can stay healthy.
#3 Green Bay Packers
Under-talented but yet over-coached makes the Packers a formidable opponent for 2017-2018. Even though they don't have the big named stars like other teams, Coach Mike McCarthy always has his teams prepared to play on gameday. Look for the addition of Martellus Bennett at tight end to make them even more efficient after losing Jared Cook. Also look out for a breakout season from safety Ha Ha Clinton-Dix. And Aaron Rodgers, the most talented QB in the league, will be ready to prove the doubters and naysayers wrong.
#4 Atlanta Falcons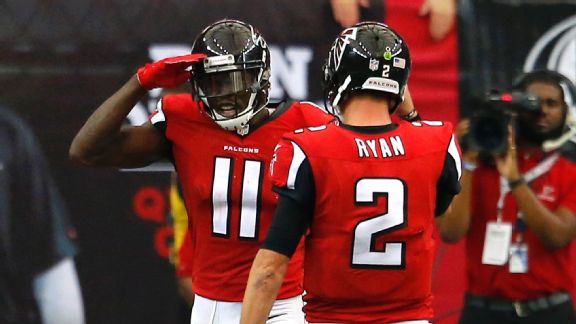 Yes I know, they are coming off a Super Bowl appearance so how could they drop so far? That's exactly why they're lower on my list. Look back at all the teams that have lost in the Super Bowl and how their season went afterwards. There's no question that Falcons still have talent like Matt Ryan, Julio Jones and Vic Beasley. But pundits believed think the last season was a fluke and it will be difficult to repeat that. Look for the embarrassment of the 28-3 comeback in Super Bowl LI to fuel them.
#5 Pittsburgh Steelers
Every year it seems the Steelers are on a top teams list due to their future Hall of Fame QB in Big Ben and ferocious defense. Most recently the Steelers improved their secondary adding former Brown cornerback Joe Haden. Also Martavis Bryant returning from suspension and Le'Veon Bell finally appearing to the team bolsters their talented team. With the AFC in slow decline, look for the Steelers to challenge the Patriots for the crown.