24 years later: O.J. Simpson and the chase that captivated America
Everybody remembers where they were and what they were doing on June 17, 1994. I don't. I was only a little over a year old when the slow speed chase between the Los Angeles Police Department and American Phenomenon O.J. Simpson took place on the Santa Ana Freeway. This is the chase that had every American glued to their TV screens and every sports fan upset that this was interrupting the NBA Finals. Whether you were mad, sad or happy, you were glued to that screen watching that white Ford Bronco slowly make its way down LA's busiest freeway.
24 years later and the O.J. Simpson story still captivates America.
I was just learning how to walk when the murders of Nicole Brown Simpson and Ronald Goldman took place on June 12, 1994. I grew up only hearing the name O.J. when people told jokes such as "Yeah, and O.J. didn't do it", which was always said in a sarcastic manner. For the longest time all that I knew about O.J. Simpson was that he was a famous ex-NFL player that killed his ex-wife and her friend and got away with it.
All that changed in 2017.
I was at my apartment one night scrolling through Netflix trying to find a new show to watch when 'The People v. O.J. Simpson' had come across my screen. I had heard stories about how great this show was so I figured I would give it a chance. After the first episode I was hooked! I finally had a small glimpse of why America had been so obsessed with this man and the trial for over two decades.
Before the night of June 12, 1994, O.J. Simpson was known for his athletic abilities, his acting and his charming personality. O.J. was the first NFL player to rush for over 2,000 yards in a season and the only player to do so on a 14 game schedule. He retired from the game of football following the 1979 NFL season. Simpson was later inducted into the Pro Football Hall of Fame. He was a sideline reporter for NBC for years following his retirement.
Leading up to the murders, O.J. and Nicole had their encounters with each other and the LAPD. It was noted that the police had been to their house 8 different times including the infamous 911 tape that was released during the trial that took place on October 25, 1993.
"I don't want to stay on the line. He's going to beat the S— out of me."
There were obvious signs of domestic abuse but they were never taken seriously by the police, Nicole's friends and even Nicole herself. and She never chose to charge O.J.
On June 12, 1994 Nicole Brown Simpson and Ronald Goldman were viciously murdered at Nicole's apartment in Brentwood, California.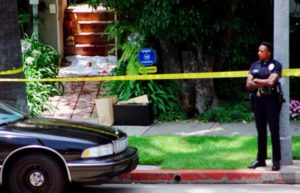 At the time of when the murders took place, O.J. Simpson claimed to be at his home on Rockingham waiting for a limo to pick him up as he had an overnight flight to Chicago to play in a golf tournament the next day. Two hours after his arrival, he received a phone call from the LAPD stating that his ex-wife had been killed. Simpson informed law officials that he would be on the first flight out. Police claimed that Simpson never asked how Nicole died.
Simpson returned to LA the following morning and was immediately placed in handcuffs and taken downtown for questioning. After 3 hours of questioning and interrogation, Simpson was released.
Back in December of 2017, I was in LA for a game between the Philadelphia Eagles and Los Angeles Rams. It was a bitter sweet weekend for me. On one hand I was in LA for the first time ever enjoying the beach and my friends but on the other that was the same weekend Eagles' Quarterback Carson Wentz tore his ACL. I was bummed.
I was staying with a friend of mine in Brentwood. I knew the murders had taken place in Brentwood and with my curious mind I decided to see how far away Nicole's apartment was from where I was staying. A part of me was intrigued to see where one of the most talked about murders had taken place. The other part of me felt creepy and disrespectful in a sense of two innocent people had viciously been murdered there. That hit my mind more and more. I was thinking to myself, "Well maybe the apartment is too far away from where I'm staying so I just won't go." I hit the route button on my phone and it read 0.6 miles away.
I decided to go.
I came up on front side of the apartment and I was confused at first because I didn't see the place. But after realizing it had been covered by trees, most likely to try and keep people like me away, I made my way across the street. I saw the tall tree that was famously in all of the pictures of the crime scene and where they wrapped the yellow caution tape around. I first went into the back alley, to the backside of the apartment, where in the trial it was claimed that that was where O.J. had parked his Bronco.
I made my way back to the front of the apartment and stood right by the entrance. I didn't stay long. The pictures of the crime scene flashed in my head. I was standing on the same tile that was drenched in Ron and Nicole's blood. I immediately felt eerie and caught goosebumps and decided it was time to leave.
June 17, 1994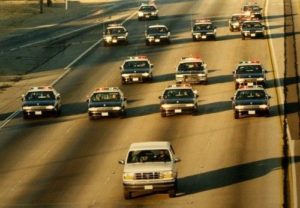 This is a date that is instilled in American history. 24 years ago to the date.
On the morning of June 17, 1994, O.J. Simpson's lawyer, Robert Shapiro, received a called from the LAPD stating that Simpson had been charged with the murders of Nicole and Ron and needed to surrender to officials by 11 am. Shapiro informed Simpson that he had to surrender by 11 am.
11 am passed and Simpson had yet to surrender to law enforcement.
Shortly after, police arrived at Robert Kardashian's estate, where Simpson was staying, only to find that Simpson and his friend Al Cowlings had fled the house without notice. At 1:50 pm, LAPD Commander David Gascon held a press conference to announce that Simpson had failed to surrender and was now a fugitive.
The LAPD was actively searching for O.J. Simpson.
At 5:51 pm, Simpson made a 911 call that ultimately tracked his location down to the Santa Ana Freeway in Orange County not far from where Nicole Brown Simpson was buried.
The slow speed chase that had the whole world on watch, began.
Highway patrol and local police departments were in pursuit of a white Ford Bronco that contained Simpson and Cowlings. Cowlings was the driver of the bronco while Simpson was crouched behind the driver seat with a gun to his head. Simpson had made it clear through 911 calls that he was willing to kill himself. Cowlings made a call to 911 to urge police to stand down.
"This is AC. I have O.J. in the car. Right now we all, we are okay. But you got to tell the police just to back off. He's still alive but he's got a gun to his head."
The chase continued for exactly two hours.
Ultimately, the chase ended when the Bronco pulled into Simpson's estate where he eventually entered his home and was later taken into custody.
On July 23, 1994, Simpson stood in front of a judge, the people in the court and the millions watching across the world and proclaimed that he was "absolutely, 100% not guilty." The prosecuting team was represented by Marcia Clark and Christopher Darden. Simpson had a hell of a defense team, also known as "The Dream Team." His team was represented by Johnnie Cochran, Robert Shapiro, F. Lee Bailey and Robert Kardashian.
During the trial of the century, as people like to call it, there were many moments that stuck out. Moments such as Simpson trying on the gloves from the crime scene only to show they did not fit him, to Johnnie Cochran uttering the famous words, "If it doesn't fit, you must acquit." The trial exposed blatant racism that took place not only within the LAPD but all U.S. police departments.
A big factor in this trial was LAPD Detective Mark Fuhrman.
I get sick to my stomach whenever I hear or see his name.
Fuhrman was one of the detectives that first arrived on the murder scene in Brentwood and also at Simpson's estate. Fuhrman was the detective that found the bloody glove at Simpson's place and other key pieces of evidence. Throughout the trial, the notion of Fuhrman planting the bloody glove and framing Simpson was floated and caught fire and had people believing this was true. It was hard not to believe that that could be true. You're talking about a department that has a history of treating African Americans unfairly and poorly. You're talking about a department that viciously beat Rodney King down in the streets of Los Angeles without suffering any type of punishment.
During the trial there were tapes leaked of Detective Fuhrman that shook not only the trial itself but the entire city of Los Angeles. The tapes contained Detective Fuhrman dropping the N- word over 40 times and talking about planting evidence and falsifying reports to imprison black men.
After these tapes were released Fuhrman was asked to take the stand and was asked, "Detective Fuhrman, did you plant or manufacture and evidence in this case?" Fuhrman's response was, "I assert my fifth amendment privilege."
The trial lasted over eight months.
The evidence against Simpson was overwhelming. There were only three people's blood at the crime scene; Nicole's, Ron's and O.J.'s. The matching bloody glove that was found at the murder scene was found at Simpson's estate. The blood of Ron, Nicole and O.J. was found in Simpson's white Ford Bronco. The victims blood was also found in O.J.'s bedroom.
On October 3, 1995 O.J. Simpson stood in front of the jury as the fate of his life was in the hands of the jury.
"We the jury and the above entitled action find the defendant Orenthal James Simpson not guilty of the crime of murder."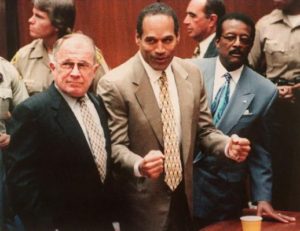 The more and more I studied this case and the trial the more I understood what happened and why it happened. I understand how and why Simpson was found not guilty. I believe O.J. Simpson was at Nicole's apartment on June 12, 1994. I believe he killed Nicole and Ron. I believe he's guilty. But I understand why he was found not guilty.
The O.J Simpson story grabbed my attention like no other. I learned a lot studying this case through documentaries, shows, interviews, books and court files. The biggest thing that I took away from this whole ordeal is how a lot of the things that took place back then are still ongoing issues in this country.
White America failed to realize why the African American community cheered when the words "Not Guilty" were announced. They failed to realize why it happened because they didn't want to know why. They wanted to paint their own narrative in a negative way instead of taking a step back and looking at the real problem. The problem that lead to the LA riots and the ultimate frustrations. Frustration from watching four white officers walk away free after beating Rodney King senseless in the street. Frustration from the social injustice that took place and the mistreating of African Americans from guys like Detective Mark Fuhrman.
White America didn't want to know and till this day a lot of them still don't.
We live in a country that is divided as I've ever seen it. A major part of the reason for that is because of the leadership or therefore lack of, that we have sitting in the oval office today.
24 years later the O.J. Simpson story still captivates America and we as a society are still facing the same problems that we faced back then.