Baltimore Orioles: Miley, Jones Speak After 7-3 Victory
Led by good starting pitching and timely hitting, the Baltimore Orioles defeated the Oakland Athletics 7-3 on Monday night. 
BALTIMORE, Md. — Wade Miley was solid on Monday night for the Baltimore Orioles. The had one of his best outings this season, going six innings, allowing two runs (two earned) by walking four, striking out six, allowing two hits (one home run).
"Yeah, I would say so for the most part," Miley said of using the same game plan against Oakland. "You're really proud of the way we kept the game plan. That was the plan going in. We did a good job of staying and attacking there. I feel like I threw the ball pretty well, there were some walks and some really close misses, but I'm a lot closer to the plate than I was a couple weeks ago. So something positive to build on."
Adam Jones had a strong night himself. Every time he stepped to the plate, he made the most of it, racking up four hits in four at-bats. Two of those hits were home runs. He also scored three runs and drove in two runs by way of the solo shot. With his four hits in the game, Jones' batting average has risen to .281 on the season.
"I think you can go look at the replay," Jones said of his home runs. "You can pull that up. It's pretty simple. You guys see the replays like 100 times in the booth; we don't get to see it. It's live."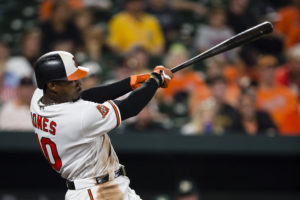 Jonathan Schoop and Welington Castillo both hit home runs of their own. Schoop was able to hit his 27th of the season in the fifth inning off of Oakland's Chris Smith. Castillo went deep off of Michael Brady in the eighth inning for his 13th homer of the season.
Jones also talked about his time in the World Baseball Classic and how it contributed to his play this season. Some have believed that the WBC would be a detriment, but Jones thought otherwise.
"People always complain about something," said Jones. "I'm not the only one that played in the WBC that's having a solid year. Look at Nellie [Nelson] Cruz, look at [Robinson] Cano, look at [Manny] Machado, look at [Jonathan] Schoop, look at [Andrelton] Simmons, look at [Xander] Bogaerts, just to name a few people. So that theory to me is poppycock. It's a good word for it."
NOTES:
Jones' 23rd and 24th home runs of the season were part of his second multi-home run game of the season. His first was on July 9 against the Minnesota Twins. Jones matched his career-high with four hits, which was the second time that he's done it this season. The first time was July 23 against the Houston Astros.
(Photo Credit: Patrick McDermott-USA TODAY Sports)