Every few years in sports there is a tragedy, followed by some sort of anomaly.
The death of Miami Marlins pitcher Jose Fernandez, followed by teammate Dee Gordon hitting his only home run of the season in his memory is a perfect example. You can see the emotion in the players' faces.
Isaiah Thomas, previously a member of the Boston Celtics, lost his sister in a car crash then proceeded to drop a 53-point game in the playoffs against the Washington Wizards on what would have been her 23rd birthday.
It is almost as if a message has been sent that the person lives on in spirit. Overwhelmed by emotions, players do things that cannot be explained. It is one of the greatest aspects of sports. Following that tradition, on March 17th something amazing happened.
Roy Halladay lost his life last year in a tragic airplane accident. The 40-year-old's single aircraft crashed in the Gulf of Mexico just four years after retiring from Major League Baseball. Any loss of life is devastating, but knowing there's a special talent that is no longer in the world had the baseball community in deep sorrow.
Drafted by the Blue Jays in 1995, Roy was the star pitcher in Toronto before being traded to the Philadelphia Phillies in 2009 to continue his illustrious career. "Doc" as teammates called him, finished his career with two Cy Young awards – one in each conference; only one of six to do so – and was also inducted into the Canadian Baseball Hall of Fame on June 24, 2017.
Yesterday, Braden Halladay, Roy's son, pitched a perfect inning against Major Leaguers.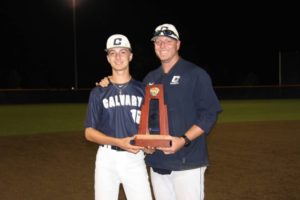 Braden was making his debut for the Canadian National Junior Team against, wait for it, the Toronto Blue Jays. When announced, everyone in attendance rose and gave the young man a clap because they knew the sensitivity of the moment. Not only did Braden get a standing ovation because of his last name and out of sympathy for his loss, but the 17-year-old pitched a 1-2-3 eighth inning. Three up and three down. The apple clearly does not fall far from the tree.
After the game, when asked by media about getting the opportunity and his dad not being there to experience it with him he responded:
"It's just surreal, opportunities like this just come once in a lifetime so I'm sure he's up smiling at me."
One of those instances where you get goosebumps and just watch in admiration. A moment the sports community and Braden Halladay will remember forever.