Charlie Strong and African-American Coaches: Football's Diversity Problem
Charlie Strong felt he let down other African-American head coaches in his time with the Texas Longhorns.
These type of feelings once again highlight a major issue in the NCAA:
A diversity problem in the coaching ranks.
Strong was the first black head coach in Longhorns history. He's now at the University of South Florida; he replaced Willie Taggert (also African-American).
Of the 128 FBS coaches, 11 are black.  Even in the NFL, there are just five teams that have a black head coach.
Strong's also the second minority head coach EVER to get fired and rehired at another school.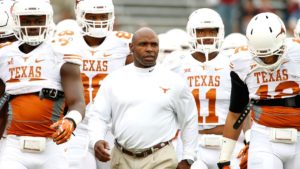 Because coaching isn't hard enough as it is, black coaches in the college and pro levels feel the weight of an entire group on their shoulders when they go to work each day.
Why is that? Why is it so hard for minority coaches to find big opportunities like Texas? Why is it that fans, from the get go, can be impatient and call for their heads when things don't immediately go right?
This happened to Strong his entire time at Texas; from the start, there were people who didn't like the hire, despite his great success at Louisville. Even after just one year, it seemed he was fighting for his job security.
Will we see the same thing with new Texas coach Tom Herman? Will he be fighting for job security after one season or will we see people gather around him when things get rough?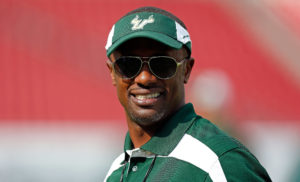 What about Willie Taggert, who turned South Florida into an 11-win team? Why is it people can question this hire, but not that of a Bobby Petrino, or a Steve Sarkisian at Alabama? (Neither was incredibly successful at their old jobs and both were booted following misconduct and alcohol issues.)
Even worse, why is there a lack of black coaches in a playing field that is almost overwhelmingly black? While only nine percent of college coaches are black, more than 50 percent of players are black. There was a time in college football's past where that was unheard of!
It's not like there's a diversity issue throughout all of college football. These colleges obviously have no problem finding black players; only black and brown coaches. That's a problem the NCAA needs to fix, and quickly.