Written By: Joshua A. Vinson/ Dallas Cowboys Correspondent
Starkville, Mississippi — Athletes talk about the moment they met their favorite player when they were a kid all the time. These opportunities can be random and happen anywhere. However, a youth-camp is the perfect place to have that intimate, one-on-one time with your idol. Well, at least it's like that at Dak Prescott's camp.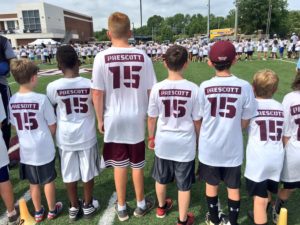 More than 700 kids showed up on a muggy, 90 degree day to participate in drills and learning the importance of good sportsmanship. Unlike at other camps, where the headliner is nowhere to be found, Prescott took time out to make each camper feel special by interacting with them, taking selfies, and sharpie in hand to sign shirts. To him, Mississippi State and the city of Starkville holds a special place in his heart.
"Everything Mississippi State has done for me," he said while talking with roughly 10 local media members on the sidelines. "I know how pivotal of years this was and moments in my life and my career. Everything this university has done for me. This town. The State of Mississippi . When we started picking places for camps I mean it was a no brainer to come back home."
More than just Football:
His status is becoming elite: winning rookie of the year and being named 14th best player in the NFL, courtesy of the NFL's Top 100. Prescott could have turned his back on Mississippi State and forgot where he came from.
Yet, he's staying true to his roots and giving back to a community that held him up in his darkest hours and brightest moments. He's using his level of success for good and in return showing the youth in and around Starkville lessons of how to be honorable both on and off the field.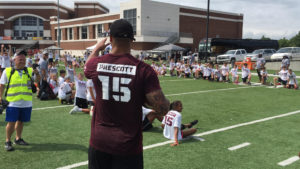 "I know the platform that I have. So, it's something that I feel is necessary that I definitely do these camps. I give back. I interact with these kids. Try to give them life lessons and well as football lessons and getting better, in their community in every way that they can. So, I mean I've been blessed to have this platform so it's important for me to do this."
Why is Starkville so Important?
On the national level, many saw Prescott's raw talents as he led his team to 13-3 as a rookie. However, locals here in Oktibbeha County, Mississippi, saw him grow up literally right before their eyes. All of the big games, wins and losses, the Bulldogs' community were there. They supported him when his mother passed away, and took him in and lifted him and his family up. This authentic love was recognized by Dak's older brother, Tad.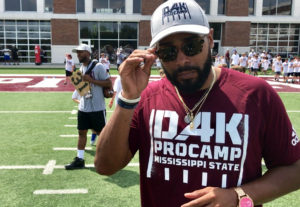 "Starkville was always good to Dak," Tad Prescott said.
"He spent five years here. This school went through the loss of our mom with him and everything. Mississippi State holds a very special place in his heart. For him to be able to come back and get back to Starkville is always something he will continue to do."
Many around this town will tell you that's why they like Prescott. He's talented on the field, however it's his character off the field that makes him lovable. You'll recall a time during the regular season, as a Cowboy, he threw a cup in a trashcan. That dominated headlines. He displays integrity, doing the right thing even when no-one's watching. It's those principles parents at the camp mentioned for the reason they brought their child to his camp.
"My son loves Dak," one camper's mom said from Water Valley, Mississippi. "I love the fact that my son is just like Dak. He's always told what he can't do, and I remind him they said the same thing about Dak,"
What's next for Dak:
He'll continue his camp tour on Thursday in his hometown of Haughton, Louisiana. Then he will go onto Dallas for a two-day camp session on Saturday and Sunday. More details can be found at:
http://www.procamps.com/DakPrescott