Derrick Rose believes in Family Over Everything
Quiet by nature, yet vociferous when he needs to be: a perfect description of Derrick Rose. Because this is his how he operates, it is hard to get to really know the former MVP. Unlike most players, Rose is not into social media and he's very discrete about his personal life. Earlier in the week, Rose was an inexplicable no-show to a Knicks home game. Every possible theory was thrown around, from Rose being seriously hurt to him going into an unexpected retirement. All of the speculations ceased when Rose showed up at shootaround the next day in New York and spoke with the media. He informed the press that he had a "family emergency" and that he spoke with the Knicks' front office. As well as his teammates and they all understood his situation.
He didn't imagine the fallout that would ensue following the incident – many wondered why Rose didn't simply contact the Knicks before leaving to Chicago to tend to his family matter. In a typical workplace that is the ethical way of doing things, but for Rose, family comes before everything, including his career. Though Rose may be one of the most peculiar NBA players to some degree, perhaps we should not be surprised by his actions.
Understanding Derrick Rose: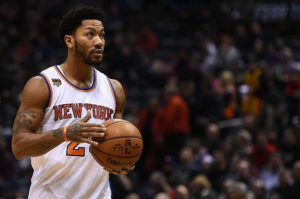 Prior to the money, the fame, and all of the intangibles that come with being a high-profile basketball player, Rose was just a kid from Englewood. It was his tough upbringing and his brothers protecting him helped shaped the Derrick Rose we know today. Family is all Rose had then, and in his eyes, that's all he has now. So when Rose had to come back home to Chicago to tend to his family. He left without hesitation or clearance from his superiors. His motto is "Family above everything, at all costs."  Even if that cost is near $200,000.  The Knicks have said they would fine Rose for leaving in the manner in which he did. Rose told Yahoo Sports/The Vertical
"I didn't make the decision off the strength of people caring about what I did. I went home, did what I had to do because my family is before anything. I was going to take the fine of whatever it may be."
This response should not be shocking because Rose has never really cared what people think about him. All he cares about is playing basketball and being able to provide for his loved ones. Many people say "family over everything" but to Rose, that's more than a motto. That's a law he lives by.
"Family over everything." Rose said to the media and went on to add, " I got over it (His personal situation) right when I was with my family. I saw them and came back (to New York) the next morning."
Family Values: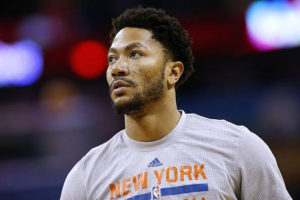 Yes, it is true. Perhaps Rose could have gone about leaving to attend to his family matter in a different way. However, he reacted the only way he knew how. Without question, family is the most important thing to Rose. Nor, does he care about what critics have to say about his decision.  We could learn from Rose because too often we engulf ourselves with work and forget about the importance of family. At times, many people will accumulate as many personal and sick days as they can so they could have an extra bonus on their check for not using them. So often, businessmen and women have their work phones in their hands at the dinner table and miss out on the quality time with their family.
Maybe what Rose did wasn't the most professional way to go about his personal issue. If anything can be learned from this is that we too should have that type of dedication and love for our families. Rose took a hit financially for leaving in the way he did. Nonetheless, he will make that loss back in no time.
Rose only has one mother and a small circle of family and friends. No amount of money will ever replace those people in his life if something were to happen to him. None of the accolades that comes with playing the game of basketball will replace the authentic love of being with family. We should learn from this situation and ask ourselves would we be willing to risk it all if we had a family emergency? If not, then perhaps we should question our own mental stability and decision making and not Rose's.