There are only a few wrestlers that are special and have the ability to revolutionize the wrestling industry. Bray Wyatt is one of those individuals that had to work extremely hard to break through in the WWE. This past Sunday Bray Wyatt reached his ultimate goal and he became WWE Champion.
Bray Wyatt debuted on the July 11, 2012, episode of the rebooted NXT, taped at Full Sail University, where he defeated Aiden English. In July, Wyatt suffered a torn pectoral muscle and required surgery. Despite the injury, Wyatt continued to appear on NXT, founding a faction known as The Wyatt Family in November, with Luke Harper as his first son and Erick Rowan as his second.
Wyatt had his first match back from injury on February 21, 2013, an episode of NXT, defeating Yoshi Tatsu. Wyatt suffered his first loss on the March 13 episode of NXT to Bo Dallas. Wyatt picked up a massive win as he defeated the legendary Chris Jericho. The Wyatt Family would go on to capture NXT  Harper and Rowan defeated Adrian Neville and Oliver Grey to win the NXT Tag Team Championship. When the WWE decided to shoot vignettes for the Wyatt family on the main roster it reminded me of the Blair Witch projects.

One of the best talkers
Bray Wyatt is considered one of the best talkers in the WWE. Due to the fact that when talks fans listen plus he has a unique delivery without have to scream to get his point across. After I enjoyed his cryptic promos in the beginning but over time it got boring. Therefore over time, he has been moving away from cryptic promos and he just gives deep promos stay away from cryptic messages.
In loss-loss situation

Daniel Bryan
The Wyatt Family's began feuding with CM Punk and Daniel Bryan in late October of 2013. This led to Punk and Bryan as they defeated Luke Harper and Erick Rowan at Survivor Series. The Wyatt Family continued their feud with Bryan as Wyatt attempted to recruit Bryan, and The Wyatt Family defeated Bryan in a handicap match at TLC: Tables, Ladders, and Chairs pay-per-view.
On the final Raw of 2013, Bryan defeated Harper and Rowan in a gauntlet match so that he could face Wyatt, where Harper and Rowan interfered for a disqualification and they attacked him. A frustrated Bryan made a shocking decision to finally join The Wyatt Family.
After Bryan joined them, The Wyatt Family could not find success. The Wyatt would constantly lose as a result would punish Daniel Bryan all the time. Eventually, Bryan reached his boiling point, he would attack all the other members of The Wyatt Family inside a steel cage on RAW and he broke free from the faction. The WWE missed a golden opportunity to continue this feud it could have lasted longer.
At the 2014 Royal Rumble, Bray Wyatt defeated Bryan. However, The Wyatt Family cost John Cena his WWE World Heavyweight Championship match against Randy Orton. The Wyatt Family sent a message as they attacked Cena after the match. This  Wyatt facing off against John Cena at WrestleMania XXX in April.

Cena
This feud with Bray Wyatt against John Cena at WrestleMania XXX was absolutely brilliant. Wyatt pushed Cena to the limit in an attempt to create a monster but he didn't listen and he rose above the hate. At WrestleMania XXX, Cena overcame all the odds and he defeated Bray Wyatt despite interference from Luke Harper and Erick Rowan.
This was a terrible decision a win could have benefit Wyatt massively at the time. An iconic image from RAW weeks after WrestleMania XXX Bray Wyatt had kids wearing sleep masks signing his song.
At Extreme Rules, Wyatt got revenge on Cena as he got the win in a steel cage match. After interference from the rest of The Wyatt Family and a "demonic" child. This feud continued with a Last Man Standing match being set up for Payback.  Cena buried Wyatt under multiple equipment cases to win the match and end the feud.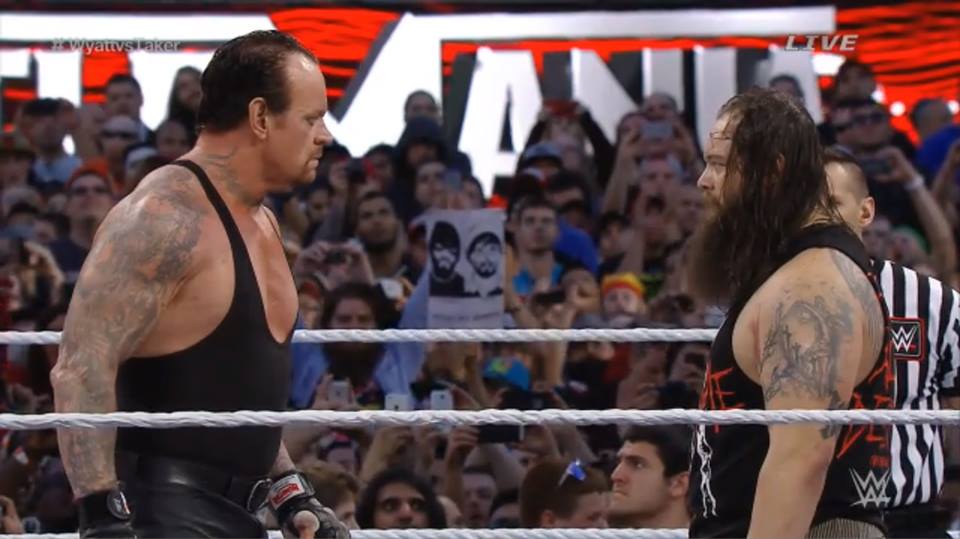 Undertaker
Following the Royal Rumble, Wyatt began a series of cryptic promos, referring himself as "The New Face of Fear", and at Fastlane, a casket was brought out the ring by druids. Later it was revealed that Wyatt was inside and he issued a challenge to The Undertaker for a match at WrestleMania 31. This was a great match but it was a difficult spot for Bray Wyatt. Another other than a lose to the Undertaker would hurt him.
The New Wyatt Family
Fast forward to Backlash, Wyatt attacked Orton before the match, which Wyatt won by forfeit. Wyatt faced Kane in a No Holds Barred match, which he lost when Orton interfered.
Orton then challenged Wyatt to another match at No Mercy, which he accepted and won with the help of the returning Luke Harper. On SmackDown Orton interfered on Wyatt's behalf in his match with Kane. This would be the turning point as Orton joined the Wyatt Family. The winning would continue at Survivor Series as Orton and Bray Wyatt were the final sole survivors. The Wyatt Family had their eyes set on gold on the SmackDown Tag Team Championship. They picked up a win on SmackDown against American Alpha.
As a result, this made the Wyatt Family the one contenders for the tag team titles. At the Table Ladder and Chairs, the Wyatt Family finally brought the gold American Alpha. However later that week on SmackDown the lost the gold back to American Alpha. At this past Elimination Chamber, Bray Wyatt survived the elimination chamber as he was finally crowned the WWE Champion.

Conclusion
Only time will tell what the future has in store for Bray Wyatt and his family. Hopefully, this just the start of a lot of success because he deserved this years ago.
Follow me on Twitter @Nino_416
All the photos were courtesy of the WWE