Hate Me Now: 5 Time Superbowl Champion
Tom Brady put on a performance for the ages against the Atlanta Falcons in Super Bowl 51. I will give my thoughts on Tom Brady after he made history as he became the first quarterback to win five Super Bowls.
Photo credit via Sports illustrated
Fueled By Hate
The New England Patriots were involved in heavy controversy for about two years now. The Patriots destroyed the Indianapolis Colts back in the 2015 AFC Championship game 45-7. Then the Patriots were under investigation apart of deflect gate. The Patriots staff were accused of playing with the pressure of footballs. This was taken to court as the judge vacated Brady suspension because there was not enough evidence. However, this case was not over it was taken to another US court and the four-game suspension was reinstated.
As a result, Brady decided not to appeal and he sat out four games. The Patriots managed to go three and one in those games in Brady's absence. However, everybody knew that Brady would come back with a vengeance against the NFL and Roger Goodell. Brady was locked in all year as he had an incredible year, he had 28 touchdowns, two interceptions with 3,554 passing yards Brady was in the MVP discussions all year.
Photo credit courtesy Sports illustrated
Spreading The Love
The Patriots are different from every other team in NFL, due to the fact it doesn't matter because the team knows what their roles and a different player always step up. The Falcons defense did a great job containing Edelman 87 receiving yards and Hogan had 57 receiving yards. However, they got contributions from Danny Amendola 78 receiving yards, Malcolm Mitchell 70 receiving yards and finally, Martellus Bennett had 62 yards.
James White had a monster game 14 receptions he was the difference maker his total receptions was a Super Bowl record. White also had 110 yards one receiving touchdown 27 rushes for rushing two touchdowns. One of them included the game-winning touchdown he accounted for 20 total points it was a Super Bowl record.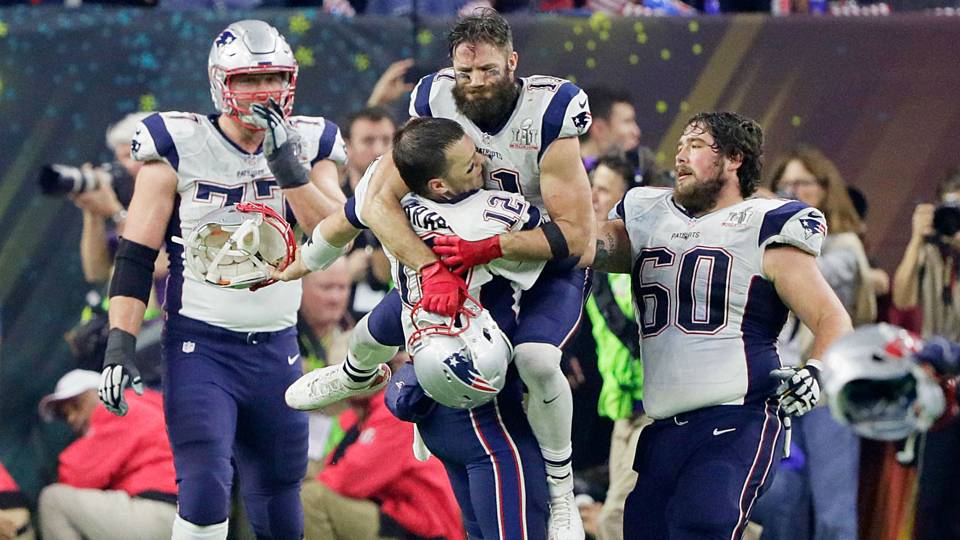 Photo credit via Sporting News
Greatness
Quarterbacks would have crumbled under the pressure. Brady is the ultimate competitor you can never count him out of any game. First, the largest comeback in Superbowl history at the time was back at Superbowl XLIX back at 2015.
The Patriots were down by tens points to the Seattle Seahawks. The Patriots got extremely luck when a timely interception by Malcolm Butler on the goal line. Fast forward to Super Bowl LI, the Patriots smashed their previous record to now the largest comeback in Super bowl which is now 25 points.
Adversity didn't seem to matter as Brady led his team to victory which seemed impossible and the time made Super Bowl history as this was the first game to go to overtime. Brady went off for 43/62 for 466 yards two touchdowns and he sent a new Superbowl record for passing yards. The Patriots went on to score 19 unanswered points in the fourth quarter including a pair of two-point conversions. This game just proved Tom Brady and his greatness as he did the impossible and he was crowned a four-time Super Bowl MVP.
Conclusion
Hate it or love it Tom Brady is not going anywhere anytime soon Brady has three to five years left in his career. The Patriots could win multiple Super Bowls if they remain healthy in the next couple of seasons.
Stats were provided by NFL, BBC Sport, NESN, Pro Football Reference
Follow me on Twitter @Nino_416