How do veterans and rookies approach training camp for the Washington Redskins
Training Camps for the National Football League are the time that signals the end of the summer for most fans. Every fan believes that this year will be the year their team will break through and win it all. The players usually have different expectations but the same goal.  Rookies are trying to figure out the NFL and how practices are different from college. Players that are trying to make the roster are going all out in an effort to impress coaches and stand out. Last but not least established veterans are balancing the difficult act between getting mentally and physically ready while staying fresh and healthy. However each player approaches this in a different way.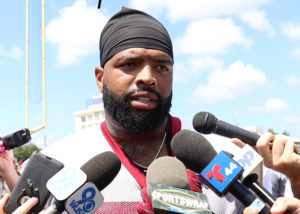 Left Tackle Trent Williams is probably the Redskins most talented and important player. Blessed with amazing strength and quick feet, Williams has been at the top level of his position. However last season Williams suffered a freak patella injury in week four against the Kansas City Chiefs. Needing surgery Williams played in six more games while barely practicing the rest of the season. No game better highlighted his amazing ability than his last game of the season against the Los Angeles Chargers. Williams effectively shut down Joey Bosa and Melvin Ingram and even though the Redskins lost, Williams showed why he was selected a pro bowler. So being asked how he is feeling Williams said he is ahead of schedule. Williams continued, " I know where I need to be to compete at a high level, I just need to be there mentally to get on the same page as the rest of the team."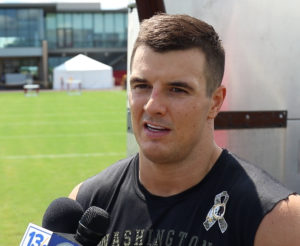 Outside linebacker Ryan Kerrigan has started every game for the Redskins since being drafted in 2011. His durability has him tied for sixth in the league with 112 consecutive starts with Patrick Peterson and Matthew Stafford. When asked on if camp is more physical or mental entering his eighth season, Kerrigan answered, " it's both, it's a grind physically but mentally camp turns into Groundhog Day. You work against the same players running the same plays." Kerrigan did offer advice to the rookies, " push yourself now because you feel good after the first day, so when you get to day seven and eight and you are really sore you can still perform.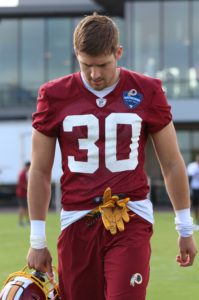 On the opposite end of the spectrum, the fourth round pick Troy Apke is adjusting to football at the NFL level. The Penn State alum first got everyone's attention with a blistering 4.34 40 yard dash at the NFL combine. Selected to add depth and special teams to the Redskins. We asked him how practice was different from college, Apke said, " everyone is good here, there is no one who is lacking." When asked who he was getting guidance from Apke said, " DJ (Swearinger) is helping me and DeShazor (Everett) is on the two's with me." Apke continued " we have things we have to work on and I have things I have to work on." Apke was pleased with his first day.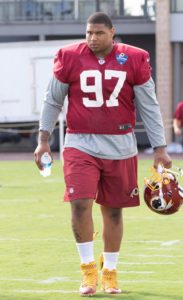 Fellow draft pick Tim Settle was a tad harder on himself after his first practice. "Practice wasn't what I expected actually, however I made some mistakes that I don't normally make." The fifth round draft pick from Virginia Tech continued his tough self-assessment, " I wasn't up to par of where I need to be. But tomorrow is another day and I will get better. Each day is a day to improve." Settle who is physically impressive is just 20 years of age, so he knows that his football career is just getting started.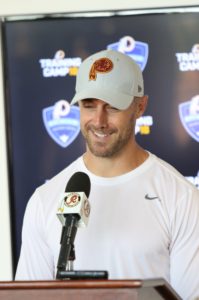 Alex Smith is the franchise quarterback of the Washington Redskins. Smith is also the elder statesmen of the team entering his 14th NFL season. When asked on how is training camp in Richmond Smith offered this reply, " For me, the older you get – it's funny I love going away to camp. You know, so to get down here and get it started off I mean when you have kids and a family you get less and less time to hang out with the guys and camp is a time for that the older you get." Smith and the veterans understand the necessity of team building through reps on the field and time together off of it. The rookies value the limited time to work on the field to show your value. Either way you approach camp everyone understands that the work done on the fields in July and August show themselves in December and January.