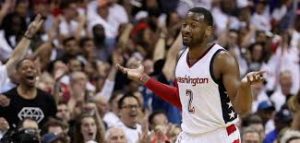 The Washington Wizards forced a game 7 with a 92-91 win over the Boston Celtics after a John Wall game winner.
Washington Strong Start Leads to Weak Finish
In a must win for Washington and a series clinching game for Boston, they both came out ready.  The Celtics scored the first two points and never held the lead again after that.  Although they never got a big lead, Washington managed to stay in front the whole first quarter.  It was a good defensive quarter both teams.  The Wizards led Boston 22-17 after the first period.
In the second quarter after a Avery Bradley three, Boston tied the game up halfway through.  Despite a comeback, the Wizards knew how much was on the line in D.C.  Behind Bradley Beal, Washington pushed took their biggest lead of the night (9 points) with 4:07 left in the second.  After getting up by as much as 10 points, Washington got sloppy.  Boston went on a 12-1 run to close the quarter and go into halftime with a one-point lead.  This was their first lead since they were up 2-0.  Wall was 1-9 from the field at halftime with three points.  Isaiah Thomas was 2-6 from the field for 10 points.
Go Hard or Go Home
The second half started like the first half ended as Washington could not buy a basket.  That was until Wall found his shot.  With the Wizards down seven points, Wall scored seven straight to tie it up.  However, the Celtics regained the lead and never let it go.  Washington came close but could not stop the Celtics in the third quarter.  The Wizards ended the quarter on a solid note and only trail by three points going into the fourth.  Wall scored 13 points in that quarter including a highlight spin move in the paint.  The Wizards season came down to 12 minutes.
Who Wants It More???
Beal gave Washington the lead with 9:45 left after two quick buckets.  Boston would not give in and the two teams battled back and forth.  With Washington down, Markieff Morris hit a huge three-pointer with 3:45 left to give his team a two-point lead.  Thomas came back with a clutch bucket to give Boston a five-point lead.  After good defense, Beal hit a three-pointer followed by two free-throws from Wall to tie the game at 97 with 41 seconds.  Avery Bradley hit a jumper with 39 seconds left to give them the lead.  The other Bradley came right back for Washington to tie the game at 89 with 28 seconds.  Horford hit a shot off glass to give Boston the lead with seven seconds.  Wall gets the ball on the next possession and drains a long three with three seconds to give Washington a one-point lead and the eventual game winner.  Morris, Wall and Beal made all 51 points in the second half for Washington.
Beal led Washington with 33 points (game high) and five assists.  After three points in the first half, Wall finished with 26 points and eight assists.  Morris finished with the only double-double between both teams with 16 points and 11 rebounds.  Otto Porter, Jr. played 36 minutes and went scoreless,  Marcin Gortat pulled down 13 big boards.  Thomas and Bradley both had 27 points to lead Boston. Al Horford added 20 points.