Jordan Howard looks to avoid sophomore slump
Jordan Howard comes into the 2017 season as the focal point of the Chicago Bears' offense. Howard was a top running back in the 2016 NFL season. He finished second in rushing yards behind another sensational rookie, Ezekiel Elliot. As the Chicago Bears
Howard was always an under the radar kind of guy. He was quiet but a focused and determined football player. Although Howard was a star athlete at Gardendale high school in Alabama, he was never received as a major recruit by college recruiters. He chose to stay close to home as he attended college at the University of Alabama at Birmingham. Howard spent two years at UAB before they were forced to shut down their football program to which he then transferred to Indiana.
In 2016, the Chicago Bears drafted Howard in the fifth round (150th overall).
Rookie Season: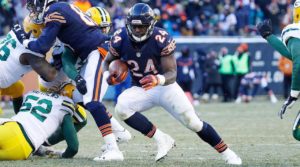 With veteran running back Matt Forte out of the picture, the Bears were forced to decide on a new starting running back for the 2016 season. Howard competed with Jeremy Langford, Jacquizz Howard and Ka'deem Carey for the starting position.  Even though Howard had a solid preseason, with a strong finish against Cleveland rushing over 100 yards, he did not win the starting job. Howard started off the regular season as the 3rd string running back. After both, Langford and Carey, suffered Injuries, Howard was named the starter for the Bears' week 4 matchup against the Lions, where they won their first game of the season 17-14.
Carries: 252
Rushing Yards: 1,313
Avg. YPC: 5.2
Rushing Touchdowns: 6
Receiving Yards: 298
Receiving Touchdowns: 1
Howard ended his rookie season with having 8 games of 100 plus total yards in the last 9 weeks. His vision stood out on a weekly basis. Howard set a Bears' rookie record for rushing yards on top of being a Pro Bowl selection. It was a disappointing season last year for the Chicago Bears as they finished last in the NFC North with a record of 3-13. He is what a lot of people would say, "a complete running back". Howard was tied for 3rd on Pro Football Focus' list of top blocking running backs in the 2016 season.
2017 Expectations: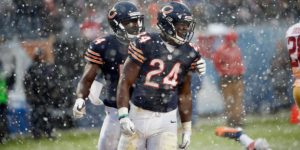 Chicago has a lot of work to do to get back to the glory days of winning but they have a young, talented star running back in Howard that they can build around. There's no question that he is the most vital player on Chicago's roster heading into the 2017 season. With Mike Glennon fighting to keep his starting job, he will have rookie Quarterback Mitch Turbisky looking over his shoulder.
Howard's offseason goals were to lose weight but gain power and to improve as a receiver.
There is always fear of a sophomore slump in players but that doesn't seem likely for Howard as he will receive a heavy work load in Chicago's offense. Jordan Howard is just scratching the surface. In my opinion, 2017 will be an even better season for Howard and hopefully a better season for Chicago as a team.
Predictions:
Rush Yards: 1,405
Rushing Touchdowns: 10
Passing Yards: 260
Passing Touchdowns: 2
Michael Bish can be reached on Twitter @MichaelBish_