Kairi Sane Makes History: Mae Young Classic
Last night history, was made in Las Vegas it was the Mae Young Classic finale between Kairi Sane against Shayna Baszler. Here are my overall thoughts on the finale as well as the tournament.

Great build up
There was great up towards the finale of Mae Young Classic for both Kairi Sane and Shayna Baszler. It made a fantastic David and Goliath story between two interesting women with two different styles. Shayna Baszler just ran through her competition with her deadly submission and MMA game.
Sane has a unique look she is extremely short in the ring. However, don't get it twisted she can go inside the and loves to use her elbows. It was a match that lived up to the hype and Baszler pushed Sane to the limit. Sane was about to tap out but she was able to break out of it. Then Baszler worked on damaging Sane arm. Sane found a way to hit her signature top rope elbow as she defeated Baszler. As a result, Sane was crowned the first inaugural Mae Young Classic winner.
Tradition
The Mae Young classic consisted of 32 of the best women wrestlers around the world. This tournament will be influential to young girls and women around the world. It will inspire them years from now to live out their dreams to become a WWE superstar.
International talent
This tournament did a fantastic job of opening the eyes of all the WWE fans to all this women talent around the world. The problem with the majority of WWE fans is that they only watch WWE and not the other wrestling promotions out there. There is a lot of talent out there in various wrestling promotions around the world. Fans just need to stop being narrow-minded and just opened their minds to the different possibilities.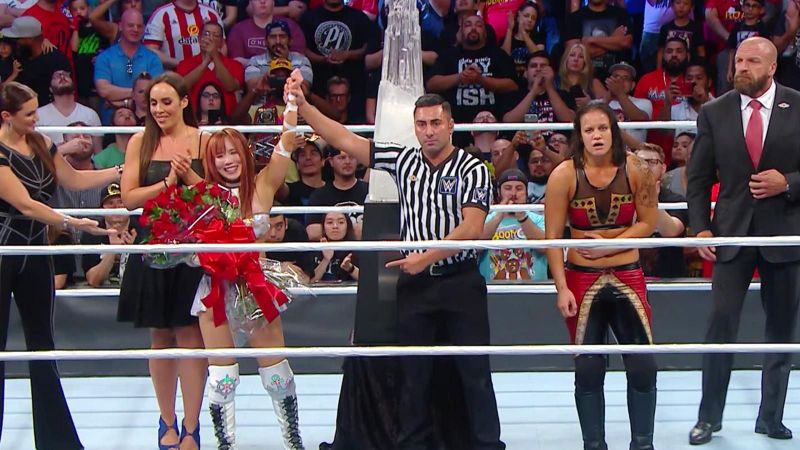 Japanese sensations
It is unbelievable to witness a Company in WWE switching their perspective on Japanese wrestlers. Now in the past, they did have quite a few Japanese wrestlers but now they actually believe in them moving forward into the future. Shinsuke Nakamura, Hideo Itami, and Kairi Sane all have a bright future and all three could be potential world champions. It is because Japan right now has the best wrestling on the planet with New Japan Pro Wrestling. Whenever they put on a major card they never disappoint. New Japan is all about pro wrestling and putting on the best matches period.
Conclusion
This is only the start of something special and Mae Young Classic will be a yearly tournament. It will give every woman the opportunity to showcase the best female talent from around the world. As a result, this will benefit the WWE because they can pull from the best talent from around the world.
Follow @Nino_416 on Twitter