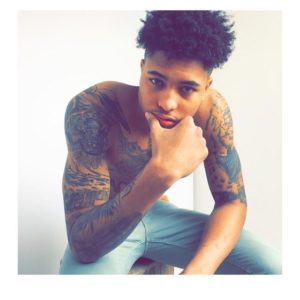 Washington D.C. —- Light skin "pretty-boy" athletes have it hard nowadays. Their opponents perceived them as weak or soft. So, imagine being a walking sex-symbol that models part-time, but plays basketball. This is the life of Kelly Oubre. However, from time to time, people try to get physical with him.
It happened last night against the Boston Celtics. Kelly Olynyk, who's known for his borderline dirty antics, hit Oubre with a hard screen. Instead of turning the other cheek, Oubre charged at him and pushed him violently showing he's "about that life."
That time when Oubre got fed up👀

— FOX Sports Radio1340 (@1340AMFOXSports) May 5, 2017
Oubre was ejected from the game for his actions. Nonetheless, he made his point. He may take selfies and strive to be everyone's "Man Crush Mondays." However, when he's on the court. He can "T-up" just like the next guy.
Support from his Team
Dealing with situations like this a head coach must be careful by not condoning nor condemning the actions of his players. Scott Brooks did exactly that.
"One I think we got to control our emotions. We can't respond that way, but when you get hit in the head a few times. We are very competitive guys out there. (The) two teams are very competitive, but if you keep getting hit in the head. You might respond that way."
Wizards coach Scott Brooks on Kelly Oubre blasting Kelly Olynyk: "If you keep getting hit in the head, you might respond that way." pic.twitter.com/RTnDcgRl0U

— Ben Golliver (@BenGolliver) May 5, 2017
Bradley Beal weighed in by providing Oubre with support. Yet, he reminded him that he's more valuable on the court versus being ejected from the game.
Beal said he told Oubre, "We need you. You are one of our best defenders, (and) you are constantly getting better. You are a threat out here on the floor and we need you, so just make sure, moving forward that you are smart about it. If somebody hit you, move on, you know what I'm saying, and just continue to play smart.'"
What Happens Next?
To be fair, Oubre shouldn't be suspended for his actions. However, because the basketball court is the workplace and he got out of hand a fine should be asset. It's unfortunate for Oubre since he recently got fined $25K for kicking a ball in the stands. Now with the contact made with Olynyk and the indirect contact with the official his fine could be astronomical.
The silver lining is when the season is over. Kelly Oubre can make that extra money by going to Southern California and hitting the runways.
The Wizards defeated the Celtics making the series 2-1 Boston. Game 4 with be Sunday at 6:30 p.m. at the Verizon Center.
Check out what @BrianHWaters has to say about the game