Sometimes to find a solution to a problem you may end up trying everything. That is exactly what head coach Scott Brooks has done with the Washington Wizards. Last night when the Wizards hosted the Charlotte Hornets, Markieff Morris had to sit out because he was injured. Morris's injury gave Kelly Oubre the opportunity to start over him. Oubre last Saturday scored his career high of 19 points. He was hoping to continue to build on that in this game. Oubre didn't outscore his career high, but he did end the game with 15 points and six rebounds. This offensive burst from the newly 21-year-old just might be the solution the Wizards are looking for.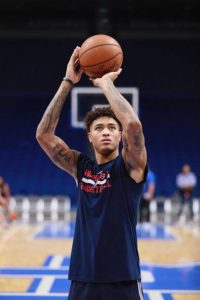 Breaking Down Kelly Oubre Jr's  Game:
The Wizards are 10-14 on the season and are in a great position to change things up. Granted, starting  Oubre will not answer all of the Wizards problems. However, it can solve some of the issues on both the offensive and defensive ends. When you take a look back at Oubre grabbing six rebounds last night. Oubre brings his own energy that helps sparks the offense. We have seen in numerous games where Oubre would block a shot and then turn that into two points.
For this to work, he must show consistency which eventually will land him that starting job. He shot 7-for-12 from the field. However, on Monday night against the Miami Heat, he was 2-for-5 from the field and only had six points. Last Saturday when he scored his career high, Oubre shot 7-for-11 from the field and was 3-for-6 from behind the arc. Being able to produce quality points is something Oubre must do to help the Wizards. If successful, this could be the turning point of the season as this team is only four games behind .500.
Looking Ahead:
The Wizards have two more home games before taking a Midwestern road trip. Tomorrow they will face the Detroit Pistons. It is still unknown if Morris will be available for Friday's game. If not, that will give Oubre the opportunity to start again. Brooks has developed many players over the years as a head coach. Most people will remember players like Russell Westbrook, Kevin Durant, and James Harden to name a few. However, Andre Roberson would be a great example of his player development. In terms of the Wizards, Brooks must continue fine tuning this rotation to give this team the best chances to win.
Is Oubre the answer?
Perhaps, Oubre is the answer. Though it may be too early for the numbers to show it, but it seems like the offense ran so much smoother with him being in the starting line-up. Even if Morris is healthy, Oubre should start and Morris could come in with the second unit to be that offensive spark off the bench. When he is coming off the bench it doesn't seem he does well with ball handling. At times, he would dribble the ball too much causing the offense to shoot late in the shot-clock leading to a bad shot. However, if John Wall and Bradley Beal are the primary ball handlers that wouldn't be a problem. Oubre would be open for a three-pointer, play defense or crash the boards like he did Saturday and Wednesday nights.
We are 24 games into the season. So all things should be on the table for the success of this team. This season is far from over and if Oubre is the answer, Brooks should pounce on this opportunity. The Wizards need a nice five to seven game winning streak and over the next week and a half, all of these games are winnable.