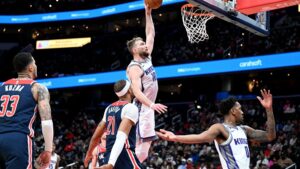 Sacramento Kings power forward Domantas Sabonis attempting a slam dunk as Washington Wizards forward Kyle Kuzma and center Daniel Gafford defend. (Photo by G Fiume/Getty Images)
WASHINGTON, DC—The Sacramento Kings three-ball torched the Washington Wizards, contributing to a 132-118 Wizards loss.  The Kings (43-27) shot 22 of 37 from three, which crushed the Wizards Saturday night.  Wizards coach Wes Unseld Jr. said the Wizards didn't guard the Kings from the three-point line.  He explains why the Kings were able to be so efficient against his team.
"Some of it was against decent defense. A handful of them were open, where we need that extra effort to get there to put that shooter under duress."
Wizards guard Bradley Beal finished the game with 20 points.  Beal did his best to keep the Wizards in the game; however the Kings just had too much fire power.
"We were so worried about [De'Aaron Fox] and [Domantas Sabonis] pick and rolls and being in the paint; help keeping [Sabonis] off the boards that we just kept a lot of guys open.  They put us in a lot of scramble situations and forced us to make those extra efforts and they made them.  Twenty-two threes is going to win you any game damn near.  Like that's crazy."
Fox was relatively quiet in the game scoring 12 points.  The Kings had six players scoring double digits, including Sabonis; who had 30 points.  As dominant as Sabonis was, it was players like Malik Monk, Keegan Murray and Terence Davis that gave the Wizards fits.  Those three players combined to go 15 of 24 from the three-point line.
"No offense to D. Fox or Sabonis but everybody else killed us and hurt us with the three pointers.  Keegan was shooting the ball well.  Malik came in and shot the ball well.  T.D was shooting it well. That makes them that much tougher," said Beal.
The Wizards (32-39) were without forward Kristaps Porzingis; who was out due to an illness.  The team missed his 22.8 points per game average.  They had another scare at the 11-minute mark of the first quarter, when forward Kyle Kuzma sprained his ankle on a fan's foot after making a baseline step back three-pointer.  Kuzma was in agonizing pain, hopping around waving for the Wizards' training staff.  He returned later on in the first quarter and finished the game with a game-high 33 points.  Kuzma explained how he abnormally rolled his ankle.
"I don't know if it was a man or women but whoever it was like standing up just trying to get to their seat and I just shot it and just kind of rolled it.  You know it sucks; especially the first play of the game."
Kuzma blocked out the pain just for a chance to be victorious.
"It's pretty swollen right now; fight through it and try to get the win."
The Wizards at the moment are tied for the 11th seed in the Eastern Conference with 11 games remaining.  They are currently 1.5 games out of the 10th seed, which they need to make the NBA Play-In Tournament.  The Wizards can't have teams shooting 59.5% from the three-point line if they want to obtain the 10th seed.