What We Learned about the Lakers
On Wednesday night, the post-Kobe Bryant era began with the Los Angeles Lakers. The last time we saw this team during the regular season, Kobe dropped 60 points in a win over the Utah Jazz. During the offseason, the team made a few changes. They added former Lakers forward Luke Walton as head coach who added former guard Brian Shaw to his coaching staff. With the number two pick in the draft they selected Brandon Ingram out of Duke and in free agency they signed center Timofey Mosgov and Loul Deng. The Los Angeles Lakers are a new team and we learned some thing about them in their 120-114 win over the Houston Rockets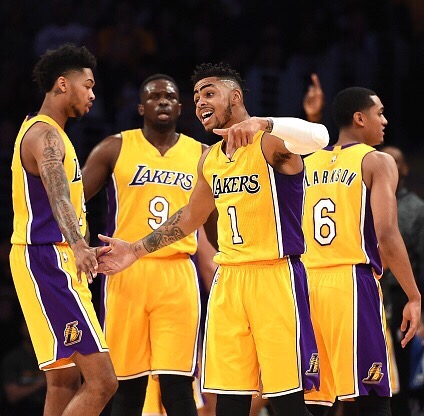 The Lakers belong to D'Angelo Russell
The Lakers selected point guard D'Angelo Russell with the number two pick in the 2015 NBA draft. Some compared him to Ervin "Magic" Johnson because of his vision on the floor. Wednesday night, Russell made it very clear that whose team it is. After knocking down a jumper, he yelled out "this my sh*t." He finished the game with 20 points,

Jordan Clarkson is the Lakers Most Humble Player
Walton said that Clarkson did not once complain about getting minimal minutes in the first half. When he got his chance, it was showtime. Clarkson led the team in scoring with 25 points.
Timofey Mosgov and Loul Deng were good signings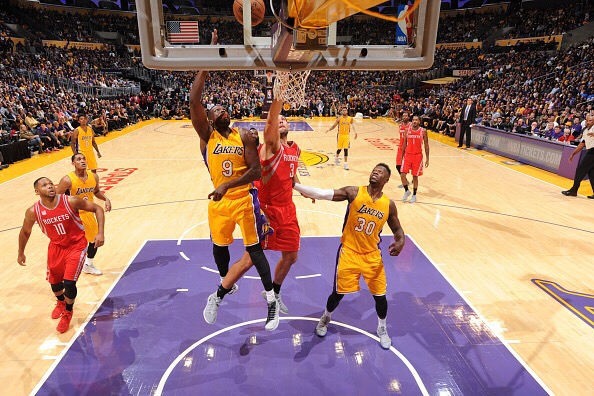 Mosgov and Deng are Solid Additons
When the Warriors lost Tuesday night, one thing everyone pointed to was their front court. Did they have anyone who get inside and get the rebounds. The Lakers do not have to worry about that issue with Mosgov. At 7'1″, 275 pounds, he proved that he was able to get down bottom and grab the boards. Deng is a forward who can score from downtown as well as rebound.

Luke Walton will preach defense
In his post game pressed, Walton made it clear that scoring was not an issue, but he wanted to see improvements on defense. Do not get discouraged Lakers fans, the Rockets are coached by a Mike D'Antoni, an offensive (and only offensive mastermind). But at least Walton is telling his team they will improve.

The Young Core is Exciting to Watch
Russell, Clarkson, Julius Randle, and Brandon Ingram will be a fun team to watch this season. Walton has said that he will not judge this team by wins yet, but how they play, their effort, and their growth. Randle dropped 18 points last night and Ingram added 9. Seeing them spread the ball and finish with a win has to have any member of Lakers Nation excited about the future.
Follow me on Twitter @BrianHWaters