Written By: Joshua A. Vinson / SEC Correspondent
Laying down on the couch watching basketball explaining the every moves of each player. Lamar Peters is engulfing himself with film and studying the game. The Mississippi State point guard understands this season is vital. Last year, they were an average, middle of the fray, .500 team. Young and inexperienced it was acceptable for them to be inconsistent. However, now with a year under their belts, higher expectations lie ahead for them. Leadership and nothing less for Peters and he wouldn't prefer it any other way.
"Get in and work hard and try to stay consistent and be disciplined," Peters said sitting in the locker room. "Now we got that one year behind us. We kinda got the feeling of the game and know what to expect. (So we're) in the gym working hard so hard work can pay off."
Peters was the youngest player on the team last year. He started in 17 games and had his breakout performance vs Kentucky when he dropped 25 points. However, consistency is key. Being the point guard, it's on him to show leadership as well. He recognizes this and states he's ready to fulfill his duties knowing that's the only way the Bulldogs will be successful.
Leadership and Point Guards are Synonymous:
He admitted, "Two things I didn't bring last year. Leadership and consistency."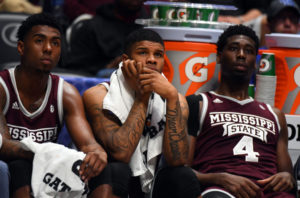 "Lead by example. Be more consistent get in the gym and put up more shots..help the team. I was 18. I was the youngest one on the team last year. So it was kind of hard for me to lead by example because I was the youngest one on the team. But you know, a lot of kids in the country was young last year. They led by examples. So that's my biggest thing going into this year. Lead by example and just be the best point-guard I can be."
Being a leader also builds maturity in a player both on and off the court. He credits this process of learning how to lead has benefited him in his personal life as well
"It helped me because either you going to make it happen or you're not. I'm high with confidence. I believe in myself so I don't wanna keep letting myself down, nor the team. So I know a team only goes as far as the point guard take them; I've really just sorta reflecting over the Summer right after the season got in the gym and been working all Summer and just waiting for it to pay off.
Win Together Lose Together:
Last season there wasn't much triumph for the Bulldogs. When you're losing you can either fight among each other and play the blame game, or you can appreciate winning and build a brotherhood through the trials and tribulations together. Mississippi State chose the latter.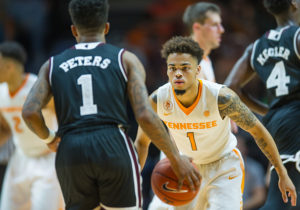 "I really think last season by it not really being as successful as we wanted to be it brought us together. It was a lot of sad time. We had a few good times, but it was a lot of sad times around here. People not being happy, everybody got together and wanted to work hard and came together talk about what we need to do to be a better team Everybody's been bonding and Coach telling us what he think we should do and everybody's been buying into it and it's been working good for us."
The SEC is Getting Better:
State went 6-12 in conference play. Towards the middle of January they won only three games and dropped seven straight. Those trying times is what matured Peters. Furthermore, this conference has gotten stronger for this upcoming season. Michael Porter Jr and Mizzou are sure to make noise. In addition, Kentucky is always a favorite and LSU, Florida, and Alabama are predominate as well. Peters expressed how this makes the SEC more competitive and how he's eager to play against some of the best in this conference.
"Last year the SEC was very physical. We had, I think, two or three teams in the Elite 8 last year. Nobody really knew how physical it is. Now with all the young guys coming in out of high school it's been a lot more talent….The SEC is really building as a whole. Everybody is really gonna have a real good team It's going to be an exciting year going into conference and you gotta bring your A-game every night."
Some fans are on the fence when it comes to the men's basketball team. Peter understands this. However, he thinks the priority is for the Bulldogs to be victorious and everything else will fall in place.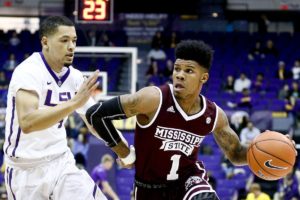 "That's the least of our worries. You can't really just look for fans. You gotta play. You gotta play hard and win. That's how you gain your fans. That's what we're working on. We had to get that rebuilding year out the way. I feel like we got that down pack and now we're ready to show everybody what we made of. I feel like this team can be special."