For most professional athletes there comes a point where you must choose to retire from the game before the game retires you. Former NFL wide receiver Joshua Morgan Sr. had his moment of choosing come more suddenly than most; but if you ask him about life after retirement the Washington D.C. native will give you a huge smile and respond with a resounding "stress free"
A Virginia Tech graduate and eventual Washington Redskin, Morgan Sr. was in attendance at the 2nd Annual Charter School Leadership Awards
earlier this week. While he wasn't there to receive an award himself, the former sixth round pick is certainly on his was to collecting to a fair share of awards for his work in the community.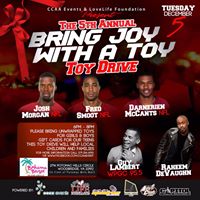 Morgan currently mentors 50-75 kids in the nation's capital in an effort to show everyone that achieving your dreams and goals is possible no matter your background.
"They can say "oh you went to this school? I went to this school." Things like that can make it become more real for them so when they see somebody that actually achieved their dream from the same streets that they're from and the same school that they went to, it's more real for them. Like oh wow I can really do it, I can make it and that just helps them believe that much more."
Surely one of the lessons he preaches to the youth is to stand up for what you believe in. It's a lesson that has its pros and cons when applied. Unfortunately, or maybe fortunately, standing up for what he believes in spelled the beginning of the end of Morgan's NFL career. With over 200 receptions and 2500 yards in his seven year career, the veteran wideout was cut from the New Orleans Saints just before the 2015 regular season. His departure stemmed from supporting former teammate Colin Kaepernick.
"If they haven't let Colin Kaepernick back, they're not gonna let me back. It's that type of situation. I didn't even get a chance to protest but being with the (San Francisco) 49ers I just said "I was here when we drafted Colin and I support everything that he's doing and why he's doing it. He's a stand up guy, always has been a stand up guy" and as soon as I said that the Saints cut me."
The most interesting part about Morgan supporting Kaepernick is he has that same energy for pop culture mogul Shawn Carter, better known as Jay-Z. When it was announced that Jay-Z would be partnering with the NFL, most people began bashing the famous rapper for being a traitor, as he has voiced his own support for Kaepernick on numerous occasions. Tell it to the now retired family man and he has a whole different perspective.
"With everything that he's doing with the league now, and this is just me, I think he's up to something. You know a guy like that he's always ten steps ahead of people and everybody's mad "oh it looks this way and he's not in touch with his people" I think he's just ten steps ahead of everybody and he got some surprises coming along the way but he's just putting himself in position to where as though now they can't just kick him out. Think about it, as soon as he partnered with the NFL what else did he do? Start looking into ownership right?"
Morgan's departure from the Saints was moment that he realized the game was more about business than anything else. It was then that he began to lose his love for a game that he began playing for free as a young kid, and just like anyone in any profession, once you lose the love for what you do, it's time to walk away. Don't be fooled though, growing up a fan of the
hometown Redskins, the 34 year old still pays close attention to his former
squad.
An offensive threat in his own right, the former wideout shared his thoughts on the current backfield and offensive line situation.
"I hate that AP wasn't active because being with the Skins, I think that's more front office and I think that more to do with a money situation than talent because he gave you everything last year and he was your best running back. As far as the front line, I HATE that they haven't made a deal with Trent yet, I hate that with a passion because although
Trent has been injured, and that's probably the leverage they're using because you haven't finished a year for us but he is your best lineman, hands down. Most athletic, when he's healthy it's hard to find better, he's at least top three (in the league)."
Most don't know that the resident Redskin played quarterback and cornerback in high school so he'd be remised to not offer his view
on both positions for Washington.
"I would love to see Dwayne (Haskins Jr.) taking snaps but I know they put the money into Case (Keenum) so it is what it is; like I said it's more business than football. This defense, and I'm not calling him out, he's a stellar athlete, one of the greatest talents that the NFL has seen; but I hate seeing Josh Norman not follow the best receiver. I would've loved to see him against DeSean Jackson the whole game. I can't say it would've changed anything but that's what everyone wants to see. You're our top corner, that's their top receiver, let's go."
In today's age of NFL players being forced to leave the game due to health, its refreshing to see a situation where not only did a player get to leave on his own terms in a sense, by standing up for what he believes in; but he is also making a positive impact on the youth in our community. In all of
that you have Joshua Morgan Sr.