Maile Williams; Aiming High Towards Her Dreams
Dreams only come true when an individual puts the time and effort into what they want to be. Inderkum Tigers' Freshman Maile Williams exemplifies what hard work and dedication means to her. "I put my all into drills, being a role model on and off the court, practice, and when it counts in games. Every time I step on the court, I play for my family, as well as my grandmother that passed away recently."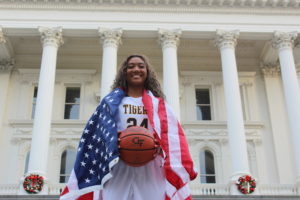 Maile has her grandmother's name written on her shoes to remind her that family has always supported her and her dreams. "She was really close with her grandmother. They used to do a lot of things together, so having her grandmothers' name on her shoes, shows the world that family is one of the factors that keeps her motivated to accomplish anything that she wants,"said Maile's father Dorjan Williams. 
On the court, Maile has dominated opponents. As a freshman, she is a varsity starter that averages around 12 points per game and averages 29 minutes a game. She was the team leader in all categories and carried the team when they were down.
Outside of basketball, Maile holds a 4.0 in academics. School is a big factor for both Maile and her parents." After high school I want to pursue my dream of being a neurosurgeon, as well as being in the WNBA one day.""I understand that hard work pays off and I am willing to everything I can to get there."
Basketball is one of the factors that makes up Maile's character. She is motivated, organized, and pays attention to detail. "Basketball is me! I know playing basketball you have to learn that patience is a value; Nothing is given and you earn everything. The tears, sweat, and the heart to overcome the criticism can be hard at times, but you have to remain focus. I do not listen to the critics. I let my work ethic show on the court."
During tough times in practice or after a game, Maile studies film and listen to some motivational quotes by her favorite athletes. One of her favorite quotes comes from the future Hall of Famer Steve Nash. "I am only comfortable, when I am uncomfortable." "It puts me in the mindset that in order to grow, I have to improve and do things that I am not used to doing."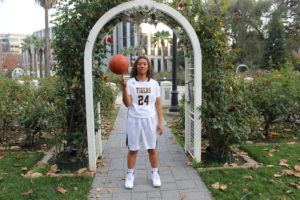 In the next couple of months, Maile will be trying out for the USA National Trials in May.
With the mindset and support system that she has, Maile has all the tools to be a successful person with accomplishing all of her goals