The replay still makes the fainted heart cringe when they see it. Yesterday's disastrous loss at Boston could have been more costly. Markieff Morris landed awkwardly and stepped on the foot of Al Horford causing him to fall and waddle in pain. He sprained his ankle severely last night. However, despite not returning in Game One, Morris vows he's playing in Game Two.
"I'm playing tomorrow. That's final,"  Morris reiterated to reporters in Boston. He then added that his swelling has gone down considerably. Post-game, he mentioned that he thought he might have broken his ankle and was in amazement of how swollen it was. Despite the confidence Morris may have, head coach Scott Brooks isn't so sure.
"Morris isn't practicing (at shootaround) he will be a game-time decision," Brooks said.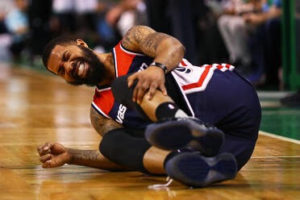 Understanding It All:
Morris admitted last night he didn't think the play was dirty. Earlier today, he told reporters that Horford told him "my fault" after the play. However, the question is if Morris isn't able to play what will this do to Scott Brooks' rotation? Ian Mahinmi is already sidelined and didn't practice today either. His return is still unknown at this point. Jason Smith would see more playing time and Brooks already confirmed that. Without Morris, the question then becomes can this team compete with Boston?
In Game One, we saw a Wizards team that came out with a lot of energy but lost the game despite once leading by 16 in the first quarter. Washington struggles with guarding the three-point shot and their bench can be a liability, at times. Morris injury, if he's not able to compete, exposes this even more so.
Nonetheless, this Wizards team believe in the cliche, but accurate saying, "next man up." If they want to win Game 2 or even win this series someone from the second unit must prove their worth and step up. We saw that with Kelly Oubre yesterday afternoon. Oubre came into the game and knocked down two clutched threes. Bogan did the same later in the game. However, consistency is key.