Morgan State defeats MD-Eastern Shore, 85-82 in MEAC Opener
In their MEAC season opener, the Morgan State Men's Basketball team defeated Maryland-Eastern Shore by a close score of 85-82.
This game was really a tale of two halves. UMES took control in the 1st Half and Morgan State came out slow. In the 1st Half, the Hawks shot around 57% from the floor and 53% from the three-point line. UMES' three-point barrage was led by guard Logan McIntosh. He shot 60% from three early on in the game. He was assisted by forward Miryne Thomas who added 14 points to the Hawk's 48 first-half points. UMES also used passing to attack the Bears defense as they combined for 14 total assists in the 1st half as well.
For MSU, things were not looking so great in the 1st half. The Bears shot 35% from the floor and was rather cold while shooting 33% from the three-point line. Due to this, MSU had a hard time getting started against the Hawks.  Tiwian Kendley led the Bears with 12 points and Phillip Carr added 9 of his own to help the Bears stay in the game early on as they trailed UMES at halftime, 48-37.



In the 2nd half, the roles were revered for both teams. The Hawks slowed down and started to shoot under 41% from the floor and three-point line. While for MSU, they shot 57% from the floor and 50% from the three-point line. The MEAC's most dangerous duo, Carr, and Kendley combined for 26 points in the 2nd half to push MSU down to the wire with UMES. Bench play was the true factor of this game. Dave Syfax scored 10 in the 2nd half while UMES' bench had no points at all.
After back and forth action in the 2nd half, Taiwan Kendley's 7 free throws over the last 10 seconds of the game, sealed the day for MSU.
---
In only 25 minutes of play, Kendley scored 28 points and grabbed 9 rebounds. The newly minted MEAC Offensive Player of the Week came in the clutch for MSU. In his 4th game, Kendley is averaging 29 points this season and his numbers will stay that way for a while. Carr added 19 and Stanley Davis 10 points as well in the win.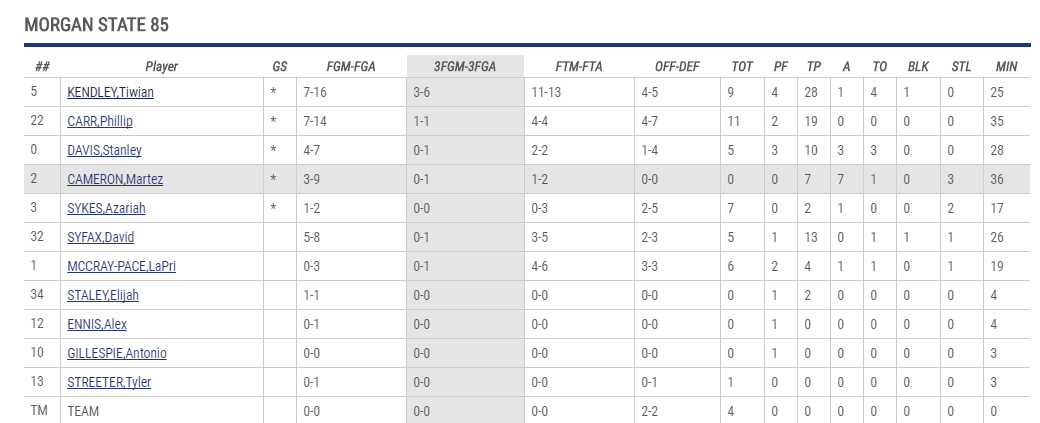 With their first MEAC win of the season, the Bears looks to handle FAMU this Saturday at 4pm.