Over the past year, Politics and Sports have collided due to the controversial kneeling during the National Anthem by former 49ers QB, Collin Kaepernick. In a stance to bring awareness to racial injustice, police brutality, and inequality, many have looked at what Kapernick did, and feel he is disrespecting current and retired veterans, the American flag, and America as a whole. One political figure that is amongst the viewers of seeing this act as disrespectful is current President of the United States, Donald Trump.
President Trump's Comments on Kneeling for the Anthem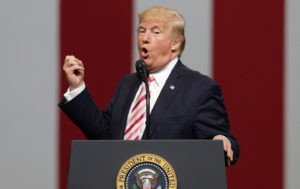 In a campaign rally last Friday in Huntsville, Alabama, President Trump had some harsh words for any of the professional NFL players that kneel during the Anthem. The POTUS said "Wouldn't you love to see one of these NFL Owners, when somebody disrespects or flag, to say, 'Get that son of a bitch off the field right now, out, he's fired!'"
Those words did not mix well with professional athletes from all sports to well. Steph Curry, NBA Champion PG, said that he will not attend the annual Championship Greeting held at the White House.
LeBron James Backs Curry
In an exchange where President Trump revoked Curry's invitation to the White House, Cavaliers star Forward, LeBron James chimed in. Here's what the All-Star player had to say.
Unity in the NFL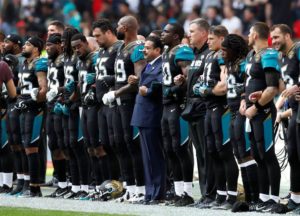 On Sunday, the first full slate of NFL games since the comments made by President Trump, NFL teams united together to show support within each other. All across the NFL landscape during the National Anthem yesterday were players, coaches, trainers, etc. locking arms. Some teams like the Seattle Seahawks and Tennessee Titans didn't come out of the locker room during the Anthem.



While many of the professional sports in America have come to their own defense on the comments that President Trump made last week, one stuck out to show they will not tolerate kneeling for the Anthem.
NASCAR Owners Threating Employees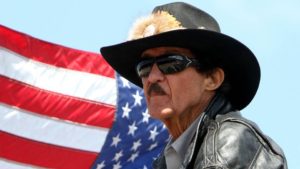 NASCAR was on full display yesterday as many owners, drivers, and teams had a race to run at New Hampshire Motor Speedway. As always, minutes before the drivers strap up in their cars, the National Anthem is played. By the actions that were taking yesterday, it sounds like some owners agreed with President Trumps comments.
Richard Childress, owner of Richard Childress Racing and a NASCAR Hall of Famer, put his employees on notice when it came to the National Anthem. Childress said "Anybody that works for me should respect the country we live in. So many people gave their lives for it. This is America." He went on to say if his employees protest the National Anthem "Get you a ride on a Greyhound bus."
Richard Petty, a seven-time NASCAR Champion, NASCAR Hall of Famer, and owner of Richard Petty Motorsports, had similar words to those of Childress. Petty said "Anybody that don't stand up for the anthem oughta be out of the country. Period. What got 'em where they're at? The United States." The "King" went on to say anybody on his team that protested would be fired.
Chip Ganassi Stands Out
Not every owner had the same thought process or feelings as the two aforementioned owners did. Chip Ganassi, owner of Chip Ganassi Racing, took to the approach of what Pittsburgh Steelers Head Coach, Mike Tomlin did. Although none of Ganassi's employees stayed in the locker room or tunnel during the National Anthem, he agreed with Tomlin's answer to the situation.
President Trump Takes to Twitter
No NASCAR employee kneeled during yesterday's National Anthem. After seeing what players and coaches in the NFL did as opposed to what the drivers and teams did in NASCAR, President Trump took to Twitter this Morning to "commend" the sport.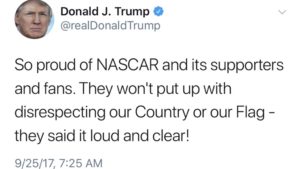 NASCAR is a very different sport than any of the core four (NFL, MLB, NBA, and NHL). While each sport brings in sponsorship to make money, NASCAR is almost depended on just that. Each car has multiple sponsors that pay for every race necessities like tires, fuel, motors, etc. Some of these owners seem to of had their mind on their wallets when making these comments and issuing threats to their employees.
NASCAR Could Find Themselves in a Sticky Situation
This is a double edge sword for these organizations. Take Kyle Busch for example. Busch, driver of the No. 18 M&Ms Toyota is a very talented driver who wins many races year in and year out. Over the past few seasons he has won a NASCAR Championship and has been close to winning more. Talent like Busch does not come often. With his pedigree and winning ways, Busch is able to lure sponsorship in to the organization he works for. This sponsorship, as stated earlier, helps pay for necessities each race weekend, along with employee salaries.
Let's play the what if game and say Busch were to protest, and ultimately get fired from Joe Gibbs Racing. A deal with sponsors he brought over may be voided due to the fact Busch is no longer the driver. That then has a domino effect on that race team in general. Another driver is put into Busch's seat, but if he doesn't come close to half of what "Rowdy" has accomplished, jobs on that team are lost along with money because they are underperforming.
Dale Earnhardt Jr. Gives His Opinions
Veteran driver and 14-time Most Popular Driver Award Winner, Dale Earnhardt Jr. took to Twitter early Monday morning. Here is what he had to say.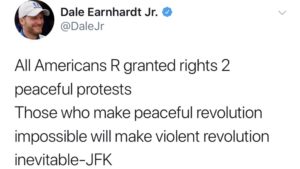 Will more drivers call their owners bluff and maybe take a stand and be opinionated like Dale Jr.? Or will they stay quiet and listen to their employers to keep a job? One thing is for sure, this is a topic isn't going away any time soon. This will be visited every time a National Anthem is played at a professional sporting event.