We're one week into Carolina Panthers training camp and as expected, all eyes are on the guys in red – red jerseys that is. While head coach Matt Rhule says that he is in no particular hurry to name the starter, it sure is entertaining to watch everything related to both Sam Darnold and Baker Mayfield examined under a microscope. Before the pads are on for Monday morning's practice, let's take a look back at Week One.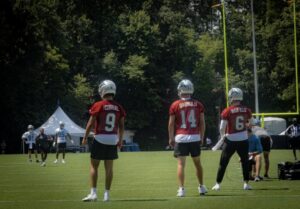 In the most diplomatic way possible, Rhule is adamant that the QB1 competition is truly open at this point in the game. Speaking with reporters, the third-year head coach said that snap counts will be discussed in house before being made public. For the time being, Darnold and Mayfield will take equal reps with the first team; alternating between the starters and the second team each day. Although is heavily expected that Mayfield will be behind center when the Panthers face the Cleveland Browns Week 1, for the time being, Darnold has been more efficient. This is to be expected due to the 4 month head start in Ben McAdoo's system that the USC product has over the 2018 No. 1 draft pick. Both players seem to have favorite targets early on with Darnold connecting with running back Christian McCaffrey on three red zone touchdowns in the first practice. Mayfield took a liking to wide receiver DJ Moore, linking up for a hat trick on the second day of practice. Early on, Darnold preferred a number of check downs while Mayfield's completion percentage suffered from his aggression with the deep ball. As time goes on and Mayfield gets a better grasp of the playbook as well as timing with his receivers, we'll see likely see the gap close. Rookie Matt Corral is not to be lost in the shuffle – he makes sure of that by being the first player on the field every day thus far. He came to training camp ready to show and prove that his name should be in the starter conversation.
Although the Panthers chose NC State offensive tackle Ikem Ekwonu with the No. 6 overall pick back in April, they're making the rookie earn his spot. Second year player Brady Christensen is seeing more reps with the first team at left tackle while Ekwonu has been running with the second string. When he is in with the first team, Christensen has been lined up beside him at left guard. Cameron Erving, who started nine games for the Panthers at left tackle last season, has moved down on the depth chart, getting mostly third and fourth string reps. General manager Scott Fitterer said the focus would be in the trenches during the offseason and it shows in the team's draft focus and free agent signings. The offensive line has been Carolina's Achille's Heel for years so it will be interesting to see how the running game and quarterback play improves with a healthy unit.
Four Panthers players had 1,000 yard seasons back in 2020. Two of those players, Curtis Samuel and Mike Davis, have moved on to other teams but the other two, Robbie Anderson and DJ Moore remain. Despite the musical chairs behind center, Moore has been one of the most underrated receivers in the NFL putting up 3 back-to-back 1,000 yard seasons. Anderson will look to get back to his 2020 form after a less than stellar season last year. Rashard Higgins, a familiar target for Mayfield offers depth while Terrace Marshall Jr could be a force to be reckoned with according to McAdoo's assessment of the second year LSU product.
Of course, everyone wants a daily update on the health of #22 and rightfully so. McCaffrey has battled a number of injuries, playing only 10 games over the last two seasons. A new, "secretive" program looks to keep the offensive Swiss Army knife on the field instead of on the sideline. Still, preparations have to be made to spell the All-Pro and that's where D'Onta Foreman comes in. He was impressive for the Tennessee Titans in the absence of Derrick Henry and has the experience and talent to be productive.
The Panthers have a plethora of cornerbacks, but they found themselves down two when they took the field for the first time at Wofford. Veteran Rashaan Melvin retired and last year's first round draft pick Jaycee Horn went to the active/PUP list with soreness in his surgically repaired right foot. Rhule says that the move is just a precaution and not a long term concern. Horn joins linebacker Shaq Thompson who had a "clean out" of his knee during the offseason but is expected to be available when the season kicks off. Enter Keith Taylor and CJ Henderson, both players anticipated to have breakout seasons. Henderson is only a few years removed from being a first round draft pick and has held his own opposite of Donte Jackson. Expect him to play up to his potential having a full offseason not only Phil Snow's defense but also under the gaze of Steve Wilks – back with the Panthers as coach of the secondary.
The first week of training camp is always met with extreme optimism, but reality sets in when the pads come on. After all, games aren't played in shorts and shells. Happy second week of camp!