Tonight the WWE will present Payback the first pay-per-view since WrestleMania. I will provide my overall thoughts along with my predictions as well as from my colleagues.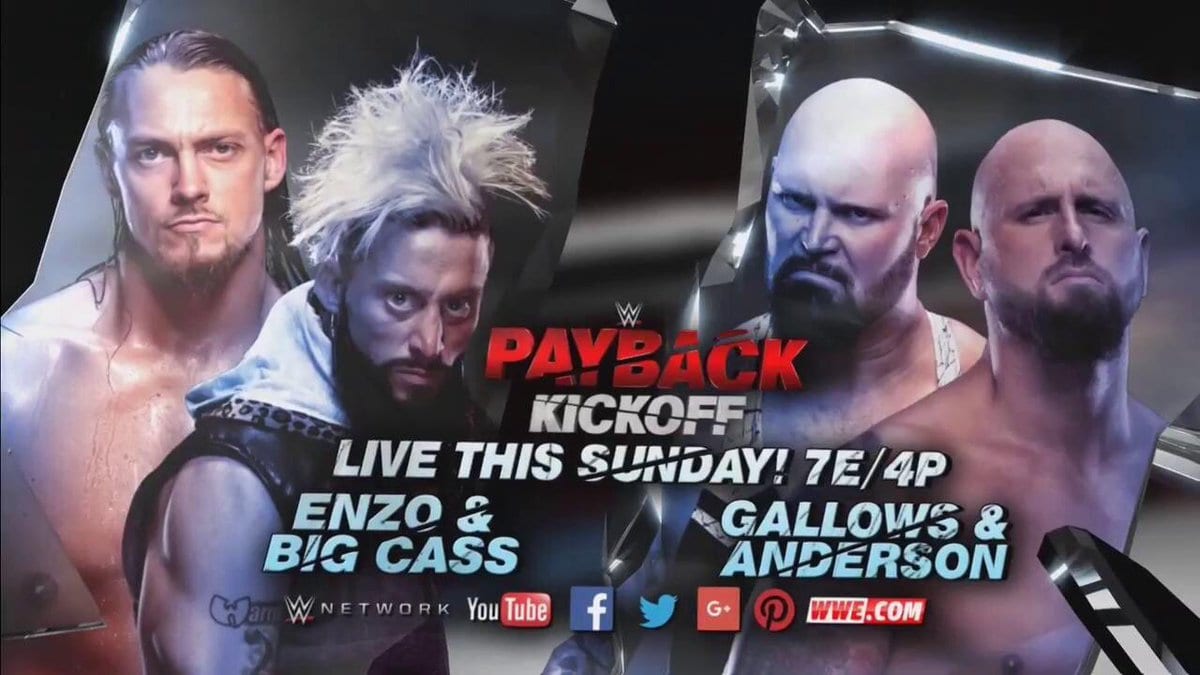 Kickoff preview
Karl Anderson and Luke Gallows against Enzo Amore Big Cass
We will start off the night with these two tag teams that are very familiar with each other. I anticipate that this match will be good. It is hard to get excited because we have seen this match so many times that being said Enzo and Cass will walk out victorious.
Brian H Waters: Karl Anderson and Luke Gallows

Miz TV
The Miz will have Finn Balor as a special guest on Miz TV so it will be an interesting episode. In addition, this could be the beginning stages of a feud between these two which could be very compelling.
WWE Cruiserweight Championship
Austin Aries vs Neville
At WWE Payback, Austin Aries will have another opportunity to win the WWE Cruiserweight Championship from The King of the Cruiserweights Aries came up short he lost at WrestleMania 33. However, Aries earned another opportunity at the WWE Cruiserweight Championship when he was victorious in a Fatal 4-Way match on 205 Live against Jack Gallagher, Mustafa Ali and TJ Perkins.
Neville has made an interesting alliance with TJ Perkins he made him see the light as Aries was stealing his spotlight. Now during this match, TJ Perkins will be involved but Jack Gallagher will come out to even up the odds.This is a difficult match to predict if Aries doesn't win the title now then when plus it could set up an entertaining program with TJ Perkins.
Brian H Waters: Aries
RAW Women's Championship
Alexa Bliss vs Bayley
Alexa Bliss has made an impact since she made her move from SmackDown Live to RAW. Bliss will look to continue to make history. Bliss was victorious over Sasha Banks, Mickie James and Nia Jax in a Fatal 4-Way Match on RAW to earn her title shot at the RAW Women's Championship. Bayley was able to survive the Fatal 4-Way Elimination Match against Sasha Banks, Charlotte and Nia Jax at WrestleMania 33. Bayley will have her hands full with Bliss, Bayley has fallen flat as Women's champion its time for a change Bliss will become the new RAW Women's Champion.
Brian H Waters: Bayley
Raw Tag Team Championship
Sheamus and Cesaro Vs The Hardy Boyz
It was one of the biggest crowd reactions in WrestleManua history when The Hardy Boyz made their shocking return to the WWE. It was a historic return for the Hardy Boyz they were involved in a Fatal 4-Way Ladder Match. The Ladder match is something that was The Hardy Boyz were known for throughout their legendary career. They went on to capture their eighth Tag Team Championship in WWE.
The next night on RAW the Hardy Boyz continued to ride the wave of momentum. They successfully defended their Tag Team Championship, against former RAW Tag Team Champions Luke Gallows and Karl Anderson.
The Swiss Superman and The Celtic Warrior were on a mission to once again become the RAW Tag Team Champions. Cesaro and Sheamus were able to defeat Enzo and Big Cass in number one contender's match. The Hardy Boyz will retain their RAW Tag Team Championship. After the match, Sheamus and Cesaro need to attack The Hardy Boyz and became heel
Brian H Waters: The Hardy Boyz
US Championship
Chris Jericho vs. Kevin Owens
It is only fitting that two former friends now turned enemies will battle at this pay-per-view called  Payback. This match is massive with a lot at stake the winner will move to SmackDown Live. Jericho is still seeking his revenge after he was brutally assaulted during "Festival of Friendship" weeks ago on RAW in Las Vegas.
Owens got the last laugh on the biggest stage of them all at WrestleMania with his signature apron Powerbomb. As a result, he became the new US Champion. Now Owens wants to be known as the new face of America. Jericho will look to change his fortune tonight but it won't happen. Owens will successfully defend his US Championship, he will have a long title reign.
Brian H Waters: Owens
Seth Rollins vs. Samoa Joe
Seth Rollins overcame the odds when he defeated The Game Triple H, on one leg at WrestleMania but he still has unfinished business with Samoa Joe. Due to the fact, that Triple H made Joe do all his dirty work for him and in the process, he injured Rollins' knee.This should be an intriguing this match it is a difficult match to predict because it can go either way but Rollins could win by DQ to continue this feud and it could be going on for quite a while.
Brian H Waters: Rollins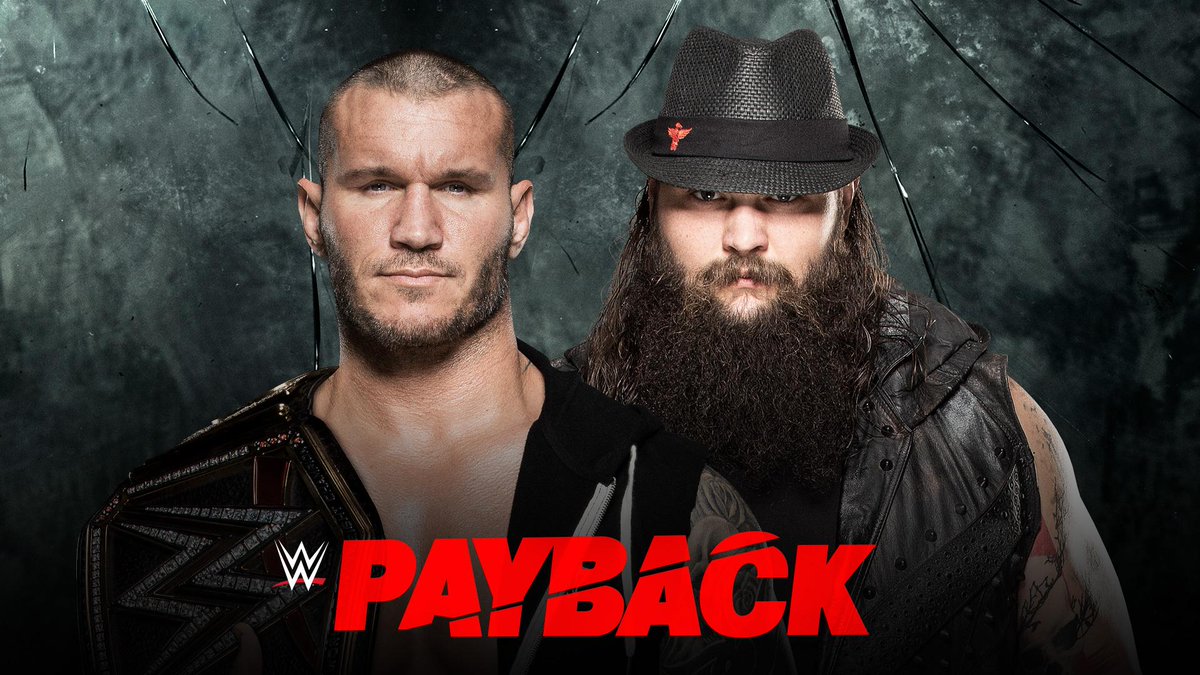 Bray Wyatt vs. Randy Orton
House of Horrors Match
At WWE Payback, history will be made as WWE Champion Randy Orton will take on Bray Wyatt in a House of Horrors Match. Orton played his mind games with Bray Wyatt and he became a 13 time World Champion at WrestleMania. Wyatt wasted no time as he interrupted Orton on the first SmackDown LIVE after WrestleMania and he sent a message to The Apex Predator that he wasn't done. Instead, he issued a challenge to Orton in the first-ever House of Horrors Match. Bray Wyatt should win this match Jinder Mahal will interference in this match.
Brian H Waters: Bray Wyatt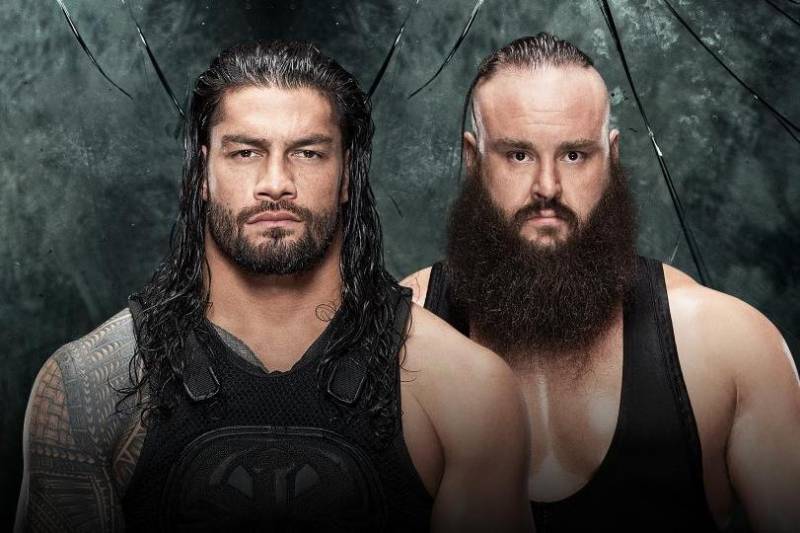 Roman Reigns vs Braun Strowman
Roman Reigns will have payback on his mind tonight as he takes on the monster Braun Strowman. A couple weeks ago, Strowman destroyed Reigns to the point where he had to go inside of an ambulance.
He wasn't done he tipped over the ambulance while Reigns was still trapped inside. It is obvious that Reigns will not be 100% going into this match. That will even make this match more entertaining because fans don't know what type of Reigns they will see. Lately, Strowman has been looking like a joke, therefore, he needs to win this match badly.
Brian H Waters: Braun Strowman
Follow @Nino_416, @BrianHWaters on Twitter
All the photos courtesy of the WWE