The Pulse of Cleveland: Flat Line
Cleveland, Ohio — Up by six points, after JR Smith knocks down the 26-footer. The Cavs had the momentum and looked as if they were going to "defend the land." Little did they know, their offense would become stagnant and Golden State would show no mercy. Kyle Korver would miss his three-point attempt. Then, Kevin Durant broke the hearts of more than 20 thousand fans watching live inside of The Q. As He drained his three-pointer and gave the Warriors the lead.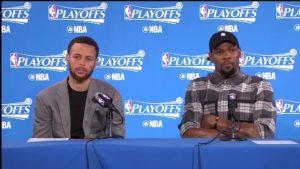 "We know if we get off the board and push, we're a dangerous team," said Durant. "And I seen him (Lebron James) backing up, and I just wanted to take that shot. Also, it was a good time, it was 45 seconds to go, we were down by two. If I miss, we could have got another stop. But I was able to knock that down. I just tried to stay disciplined in my shot, hold my follow-through, and it went in."
Golden State would go on and defeat the Cavilers 118-113.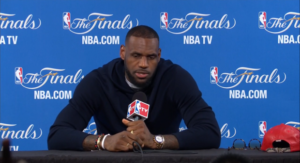 "They made shots and we didn't," said Lebron James. "We had some really good looks. I had a turnaround jumper in the post fade-away. I make a ton, didn't go in. Kyle had a corner three, really good look, right in front of their bench, didn't go in….So it's a miss-or-make league."
Cavs didn't score in the last 3:09 of the game despite six shot attempts. The Warriors scored nine unanswered points during that same time frame. Kevin Durant, Stephen Curry, and Klay Thompson had a combined 87 points. For Cleveland, James, Kyrie Irving, and JR Smith had 93 points collectively. However, it wasn't enough to put away this powerhouse Golden State Warriors team.
Looking towards Game Four
No team has ever comeback from being down 0-3. Lebron James understands this, nonetheless, his message is still the same. One game at a time.
"So, mentally, me personally, I got to go home. start my treatment right now, get my mind focused. Get my body focused and get my body ready for Game 4, and we take it one possession at a time."
In addition to James, the Warriors also know that history means nothing in this series. Last year, the Warriors blew a 3-1 lead. Which allowed Cleveland to come back and win the NBA Finals. At that time, that had never happened. Draymond Green emphasized that winning one more game is imperative.
"We got one more. We gotta win one more game. Don't worry about this. Don't worry about that. To win is great; we gotta win one more…stay locked-in for 48 more hours and close this thing out on Friday"
The Pulse of The Land
After watching their team lose last night. Many around metro-Cleveland are still in complete shock and disbelief. In south-suburban Strongsville, at the local Buffalo Wild Wings, fans still believe that King James can do the unthinkable. At the same time, their only wish is the Cavs avoid getting swept so the Warriors can't celebrate at The Q.
That seemed to be the mindset across Northeastern Ohio. At Ruby Tuesday, in nearby North Olmsted, patrons at the bar said the same thing. One said if anyone can do it Lebron can.
Though impossible, barring any injuries from either team, if James could somehow will his team to win four straight games. He would undoubtedly become the greatest player of all-time. At the same time, being swept by the Warriors does taint his legacy. Yes, James is averaging a triple-double and he's playing some of the best basketball of his career. To be considered the greatest, James and company must put the Golden State Warriors on notice tomorrow night.
Game 4 is at 9 p.m. Eastern Time at The Q in Cleveland on ABC.