The Toronto Raptors took care of business and they finished off the Milwaukee Bucks in six games. They survived a scare and they almost blew a 25 point lead the Raptors barely escaped with the 91-88 victory.
Mental toughness
Last night, the Raptors showed a lot of heart as they almost blew a 25 point lead. In the past, the Raptors would have panicked and lost the game. I have to give the Raptors a lot of credit because they were able to hold on despite going through adversity. Cory Joseph came in the game and he hit a vital corner three-pointer with about 90 seconds left to give Toronto a three-point lead. Then the Raptors went on a 9-0 run to end the game and moved their thoughts onto the NBA Champions.

The leader
DeMar DeRozan once again set the tone for his team early. He finished with 32 points, in critical moments during the season and playoffs he always showed up when the team needed timely baskets. All year long DeRozan has finally performed at an elite level and he has developed a killer instinct for the first time in his career.

Onto the next one
The Raptors will move on to face the NBA Champions the Cleveland Cavaliers. This series will begin on Monday in Cleveland and Game 2 will be on Wednesday. Game 3 in Toronto will be on Friday night and Game 4 will be on Sunday at the Air Canada Centre. Both these teams have met four times during the season and the Cavs won the season series 3-1. However, all these games ended within four points therefore it will be a tight series.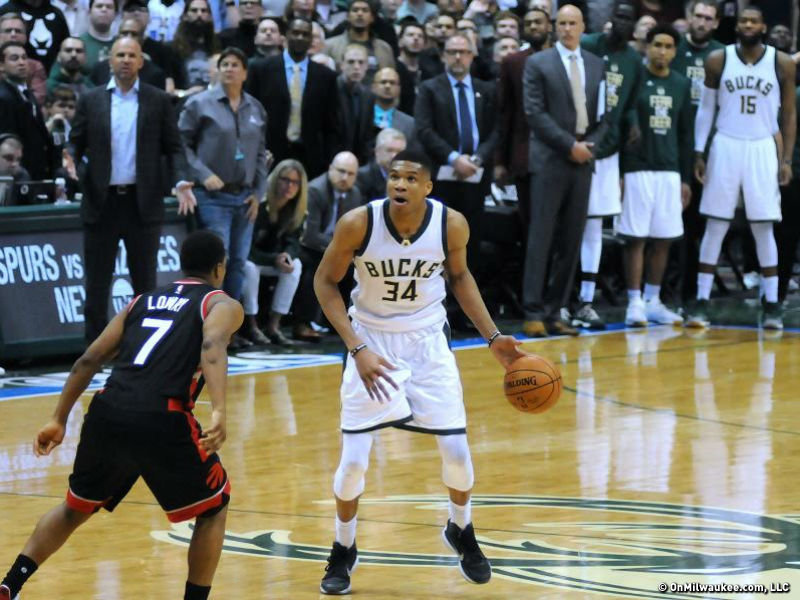 Fighting
The Bucks showed off their resiliency and they did not quit despite being down by 25 points. Antetokounmpo was absolutely brilliant throughout the series. He put the team on his back and went off for 34 points. Milwaukee Bucks were a younger team that lacked playoff experience but it was like the Raptors years ago. They took care of business even though the Bucks pushed the Raptors to the limit.
Conclusion
Yes, the Bucks gave the Raptors trouble but they will take this as a valuable experience against the Cavs. Due to the fact, the Cavs often like to use smaller lineups just like the Bucks however they are a deeper team. It will be a very compelling series and only time will tell what will happen.
Follow @Nino_416 on Twitter
Photos courtesy OnMilwaukee, The Star, SportsNet, FanRag Sports