Russell Athletic Bowl Preview: #16 West Virginia vs. Miami (FL)
It's been ten years. Ten long years. Those ten years seem like 100 to some.
Ten years since the Miami Hurricanes have won a bowl game. Dating back to the 2006 MPC Computers Bowl in Boise, Idaho. The Hurricanes, led by then-head coach Larry Coker, escaped with a 21-20 win over Nevada. For the Hurricanes fan base, it was a loss regardless how it was viewed.
Currently, head coach Mark Richt is in the driver's seat of the Hurricanes program. The former Hurricane QB and Georgia head coach is now tasked to resurrect his alma mater. Year one has started strong, encountered a funk during the midseason, and roared to a strong finish. His Hurricanes (8-4) have seen a major turnaround statistically on both sides of the ball.
West Virginia head coach Dana Holgorson has his Mountaineers on the doorstep of the College Football Playoff. A 28-point loss to Oklahoma in late November cramped their chances severely. Yet, the Mountaineers (10-2) still possess on of the better teams in college football. They are powered by an offense that averages 32.6 points per game. The two teams collide in Orlando for the 2016 Russell Athletic Bowl. Let's preview the contest.
What To Know About West Virginia 
Stop me if you've heard this before: West Virginia can score. That should sound familiar to many as the Mountaineers are able to be productive on offense. It all starts at quarterback with senior Skylar Howard. Howard has completed 60.8% of his passes with 3,194 yards and 26 touchdowns. Howard has recorded three games of four or more touchdowns. Also, he has guided the Mountaineers to 30th in the country in passing offense. To boot, Howard also has nine rushing touchdowns on the year. The strength of the offense is a run game that averages 239.5 yards per game. Leading rusher Justin Crawford averages 7.4 yards a carry and has totaled 1,168 yards with four touchdowns. Receivers Shelton Gibson and Daikiel Shorts have combined for 98 catches and 13 touchdowns on the season.
It does not take long to realize that cornerback Rasul Douglas is one of the best at the position. Douglas is tied for first in the country in interceptions with eight. The 6-2 defensive back also totaled 62 tackles with seven pass deflections. The unique 3-3-5 scheme for WVU is predicated off secondary and linebacker play. Leading tacklers Justin Arndt (80 tackles, seven TFLs, three sacks) and Al-Rasheed Benton (70 tackles, one interception) are two linebackers who smell the football and are constantly around it. They will need to focus on the run defense as they have allowed at least 150 rushing yards in each of the past five games.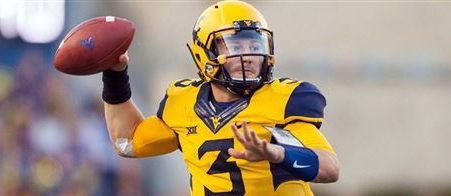 What To Know About Miami (FL) 
Upon the hire of Richt this past offseason, many felt that quarterback Brad Kaaya would take a considerable step in progression. Statistically, Kaaya progressed from 2015 but something still felt a little off. The junior quarterback tossed for 3,250 yards with 23 touchdowns and only seven picks. He has a pair of backs in Mark Walton and Joe Yearby who average 5.5 and 6.0 yards per carry respectively. Walton leads the team in rushing with 1,065 and has added 14 scores as well. Also, a pair of tight ends are utilized quite frequently in David Njoku (38 catches, 654 yards, seven TDs) and Chris Herndon (25/296/2). Add in a receiver tandem of Stacy Coley (58/703/9) and freshman Ahmmon Richards (46/866/2), and you have a Miami offense that started to hit their stride late and will continue to keep it going.
Defensive coordinator Manny Diaz has done wonders for the Canes defense this season. As a result, improvements on defense for Miami this season compared to last are enough to grab your attention. A jump from 77th (28.2) to 14th (18.9) in scoring defense was just the tip of the iceberg for the unit. Freshman linebacker Shaq Quarterman is tied for the team lead in tackles with 79 plus nine tackles for loss. Cornerback Corn Elder is one of the most underrated defenders in the ACC and is a treat to watch. Freshman defensive end Joe Jackson leads the team in sacks with 6.5 and has been a pleasant surprise this season.
Prediction 
A solid matchup here with both sides having the upper hand over their opponent in various aspects. Not to mention, it is a matchup of two former Big East foes in the 90s and early 2000s.
The West Virginia run offense is fantastic. They have eight games this season of over 200 rushing yards total. How they find room against a Miami defense that is fifth in team tackles for loss will be key. Keep a close eye on Miami defensive end Chad Thomas and defensive Kendrick Norton. Combined, the two have 22.5 tackles for loss between them.
The numbers are not great but this was one of the better defenses in the Big 12 in West Virginia. The presence of Douglas will have Miami on notice. What may hurt the Mountaineers is their run defense. Going against the 3-3-5 defense, run lanes are prone to be consistently open. Ironically, while Kaaya received the spotlight, the Hurricanes run offense has been very solid all season. The combination of Walton and Yearby will be the difference here as Miami closes out the season on a high note.
Score – Miami 31 West Virginia 23