After one of the toughest 8-8 seasons you can experience as a Ravens' fan you have to wonder what's next? There are some key free agents that need to be resigned like Brandon Williams, Kyle Jusczyk, and Justin Tucker. But the retiring of Steve Smith Sr. will hinder the Baltimore Ravens more than anybody else. With an already mediocre passing game and average offense, the Ravens will need to find production elsewhere. Here are a few options the Ravens could go with for the 2017 Season:
Sign Free Agent WR Alshon Jeffery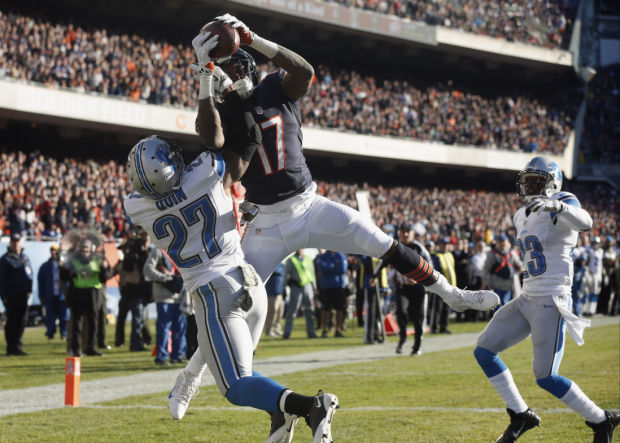 Alshon Jeffery is the most coveted free agent wide receiver on the market. His skill set is an ideal fit with a big-arm quarterback like Joe Flacco. Even though Jeffery had an injury-filled season, he's still one of the league's best. According to Pro Football Focus, Jeffery was ranked 3rd in their new grading system that calculates all receiver stats including playing time. He has some of the best hands in the league only registering two drops. Being that he's a big target at 6'3 Flacco would have a better chance completed his infamous jump balls. Also, he could add that perimeter red zone threat that has been missing for the Ravens since they became an organization in 1996. Jeffery will be hard to acquire due to his need throughout the league and likely steep contract demands. We all know Ravens' GM Ozzie Newsome rarely pays top dollar when it comes to free agents but Jeffery is a player we need to get over the hump.
Sign Washington Redskins' free agents DeSean Jackson or Pierre Garçon
The Washington Redskins have big free agents this year and surely won't be able to pay them all. Their QB Kirk Cousins wants a max deal this off-season which means in most cases they'll have to lose one of these top WR talents. DeSean Jackson should be the first pick of the two. Coming off another 1,000-yard season at 30 years old, his speed doesn't allude him one bit. Even though Jackson isn't the greatest route runner, his sure-fire speed is just what Flacco needs to stretch the field. Pierre Garçon would another be an interesting addition. Garçon is also coming off a 1,000-yard season and if he leaves will look for a Super Bowl contender — unless some outrageous money is thrown his way. Both would help a desperate wide receiving core. 
Develop past draft picks Kamar Aiken, Breshad Perriman, and Chris Moore
After disappointing seasons in 2016, surely most Ravens' fans wouldn't be happy with this option. While Kamar Aiken is a free agent, some think he still has promise after seeing his reliable 2015 season. His hands are questioned to me, he isn't tough over the middle, doesn't run sharp/tough routes, and speed is a question. Breshad Perriman has the most promise out of this list. He already has the blazing quickness and height you would want in a star wide receiver.  What could use some work is making tough catches over the middle of the field, route running, and coming down with the big catch more consistently. Chris Moore is a real project that could pan out. He's been coming up big on special teams but on offense comes up short when making that big play. He has speed and quickness but loses focus on making the "easy" catches. Sticking with Perriman and Moore would be ideal but overpaying for Aiken would be a mistake.

Steve Smith Sr. career overview
GM Ozzie Newsome has some tough decisions to make this off-season. None more important to finding a replacement for Steve Smith Sr. He has been our most consistent player over the last couple of years even at his age. Without SSR our offense loses their firepower and emotional leader. The Ravens' career he put together was nothing short of astounding for a 35-year-old. SSR had 2,534 receiving yards and 195 receptions in only 37 games along with 14 touchdowns. No question a future Hall Of Fame receiver like Steve Smith Sr. will be hard to replace but Ozzie and Asst. GM Eric DeCosta has to use their wizardry like always to find real talent to lead the Baltimore Ravens back to the NFL playoffs.