Though many players revel at the idea of attending the All-Star Games, Stephen Strasburg is not too fond of the mid-season tradition.
WASHINGTON — In 2016 the Cy Young nominee was voted to attend but did not pitch, and that, he believes led him to land on the disabled list.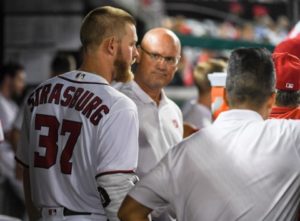 At the annual fan affair, Winterfest, Strasburg elaborated on pitching in the All-Star Game.
"I mean, I think I felt, at the All-Star break, it was a tough situation," Strasburg said. "Might have to rethink about if I'm going to actually pitch or not in an All-Star game – whether I'll actually go altogether… That was the issue I felt like was the reason why I got hurt."
Shortly after leaving Miami and hitting the resume button on the season, Strasburg was sidelined with nerve impingement in his elbow. He left a few games in the early innings with discomfort before taking a few weeks to return to normalcy.
"I just knew that little lapse, for whatever reason, it pushed me back a bit. It started making my arm hurt," Strasburg continued. "My arm felt good before that, then it was, like, after that, it just didn't feel right."
Returning from the DL to pitch 35 scoreless innings and simply dominate the opposition was the result. He ended the season with a 15-4 record and a 2.52 ERA. Stras quickly became one of the best pitchers in the game and got the national attention many Washington Nationals fans felt that he deserved. It did not stop in the regular season, in the playoffs Strasburg put on a clinic during the two times he took the mound. From the stretch, which was his primary method of delivery the entire season, he made a mockery of anyone standing 60 feet in front of him.
The Nationals are set to host the next All-Star game (2018) and if Strasburg continues his terror from last season, it would be awful for him to not show in front of his home crowd. From a fan perspective this isn't the best of news knowing one the biggest talents in the game doesn't want to attend an event showcasing the best in the league, but health always comes first.
(Photo Credit: Todd Kirkland/Getty Images)