Redskins rookie Su'a Cravens' Mother is a Cowboys Fan
 
Yolanda Cravens, the Cowboys Fan:
How would you react if you loved a team all of your life, but then your child was drafted by their rival? For Su'a Cravens mother Yolanda, the unthinkable happened. Mrs. Cravens, a die hard Cowboys fan, will have an interesting Thanksgiving, as her favorite team will play her son's Washington Redskins. Who will she root for?

Rooting for both Dallas and Washington:
Mrs. Cravens told reporters that she will be wearing a hybrid jersey that will be half Cowboys, half Redskins. Every Thanksgiving, she cheers on Dem Boyz, so would things really be different now that her son is playing for the rival? Hall of Fame running back, Barry Sanders played college ball at Oklahoma State. His father, an Oklahoma fan, told him that he was a fan of Oklahoma before Barry was born and that he would be a fan after he graduated. He still chose Oklahoma when he son went up against them.
Su'a Cravens doesn't Talk to Cowboys Fan during Game Week: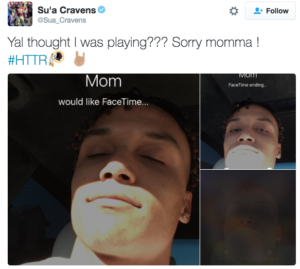 Whenever the Dallas Cowboys and the Washington Redskins square off, it's a big deal. Su'a Cravens said in September that he does not talk to Cowboys fans during the week of the big game. His mother is no exception to the rule. She told TMZ that he would be on punishment for not taking any of her calls. The Cowboys went on to win that game in Washington, 27-23. Washington will travel to Dallas on Thanksgiving for the first time since 2012, where they won, 38-31 after Robert Griffin III threw four touchdowns.
On Monday, Su'a posted a tweet showing that he is still carrying out his promise. He has yet to speak to his mom, despite the fact that Dallas week is also Thanksgiving week. If the Cowboys sweep the Redskins, will he change his mind? Will she root for the Cowboys or the Redskins? Only time will tell.