SummerSlam Review: The Beast Came To Destroy
Last night the biggest party of the summer took place in Brooklyn with SummerSlam. It is the third annual time that SummerSlam took place at the Barclays Center here are my overall thoughts of this event.

Unbelievable main event
As soon as this match was announced fans were complaining, however, it had potential to be great. The match itself didn't disappoint. In the back of everybody mind was the fact that if Lesnar lost he would leave the WWE. This match was booked absolutely perfect in my opinion from the start with nonstop action. Reigns gave Lesnar a Spear through the barricade.
The MVP of the match was Braun Strowman he had an impressive showing. He displayed his power as he put Lesnar through two announcers tables. Then he wasn't finished with him yet as he flipped over another table on Lesnar. As a result, Lesnar was carried out on a stretcher. Strowman hit Reigns with the steel steps and launched a chair at Joe. Joe was almost put the big dog to sleep with the dangerous Coquina Clutch submission.
The finishing sequence was insane that had the fans were on their feet the entire time. Reigns gave Lesnar multiple Superman punches followed by a Spear. Joe capitalized on the opportunity and locked in the Coquina Clutch that was broken up, again, by Strowman. Reigns gave Lesnar another Superman punch followed by another at a Spear but Lesnar countered it to retain his WWE Championship.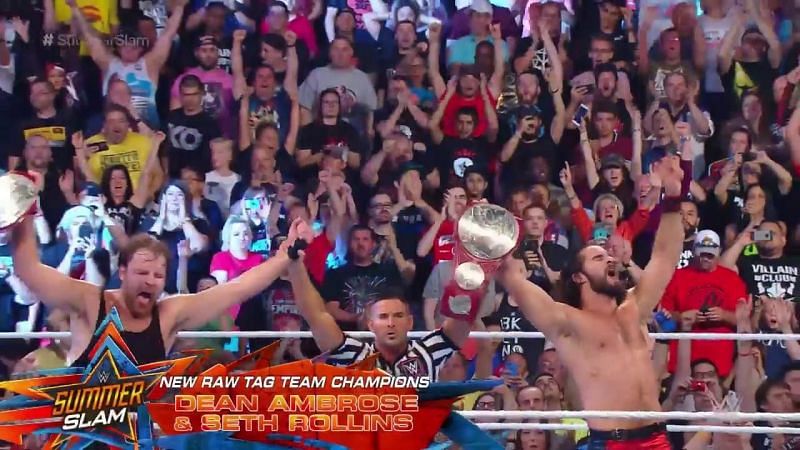 Brothers unite
This tag team match was heavily anticipated by fans to witness Ambrose and Rollins make history. Obviously headed into this match Cesaro and Sheamus had a clear advantage. The Brooklyn crowd is very vocal as expected which is always makes the atmosphere great. However, last night the crowd was extremely disrespectful. Cesaro wasn't playing any games as he leaped over the barricade and he destroyed a beach ball.
Cesaro and Sheamus isolated both Ambrose and Rollins to their advantage. Ambrose and Rollins outlast the tag-team champions. Rollins hit Cesaro with a vicious knee to his face followed by the Dirty Deeds to be crowned the new Tag Team Champions. Ambrose made history as he became the first shield member to be a grand slam champion.

Long Overdue
The Hart family has a rich history during SummerSlam. Natalya looked to rewrite history once again, as she took on Naomi for the SmackDown Live Women's Championship. Natalya used her high IQ to work on Naomi's leg for her patented Sharpshooter. Naomi could not survive the two Sharpshooter's attempt she had no choice but to tap out. Therefore, Natalya became the new SmackDown Live Women's champion.
Summer Slam results
The Miz and The Miztourage defeated The Hardy Boyz and Jason Jordan via a Skull-Crushing Finale to Jordan.
Neville defeated Akira Tozawa via a Red Arrow to become the new Crusierweight Champion.
Jimmy and Jey Uso gave Big E multiple Superkicks followed by a double splash as a result they are the new SmackDown Live Tag Team Champions.
John Cena kicked off SummerSlam with a win over Baron Corbin via an AA.
Big Cass made quick work of the Big Show via an Empire Elbow
All it only took seconds for Randy Orton to defeat Rusev with one RKO.
Sasha Banks defeated Alexa Bliss via a Banks Statement to become the new four-time RAW Women's Champion.
Finn Bálor defeated Bray Wyatt via Coupe De Grace foot stomp.
 AJ Styles defeated Kevin Owens via a Styles Clash to retain his title.
Jinder Mahal defeated Shinsuke Nakamura via Khallas to retain his WWE Championship
Conclusion
All in all there were a lot of matches Summer Slam and most of them were disappointing. However, the last four or five matches made up for it. It put the pay-per-view to average show to make it seven out of ten or even an eight out of ten it was an entertaining show.
Follow @Nino_416 on Twitter