It's the most exciting post-season in sports and even if your favorite team isn't projected to cut down the nets, the amount of talent in this year's NCAA Basketball Tournament will be an easter egg for viewers who aren't expecting much. Here are ten players to watch in the Big Dance, who not only will make some strides in the field of 64 but possibly at the next level in the NBA as well.
Lonzo Ball Point Guard UCLA Bruins
Ball, who more than likely will enter the draft after this season, averaged 17 points and leads the NCAA in assists. His Dad(LaVar Ball) thinks that Ball will be on the same level as Steph Curry as his career progresses. Perhaps the only act of parity that could confirm the CEO of the "BIGBALLERBRAND"s strong comparison to the two-time NBA MVP, would be for Ball to lead the Bruins on a run through the national tourney like Steph did in the 2008 tourney.
Malik Monk Small Forward Kentucky Wildcats
After scoring 47 Points against the North Carolina Tar Heels early in the season, the most by any Freshmen in University of Kentucky history, Monk immediately rose amongst the ranks of must-see players in College Basketball. Playing for Head Coach John Calipari has its perks and most notably Monks season lead him and his Wildcat teammates to a #2 seed in the South Region. Averaging 20 points per game, can he lead his team to the Final Four and cut down the nets?

Frank Mason III, Shooting Guard Kansas Jayhawks
In today's college basketball scene, not many players stick around for two let alone four years at a university, sans the opportunity to leave and play professional basketball. Maybe Kansas' Frank Mason III is chasing something more polished than fame and stardom in the NBA? In the eight games Mason has played in March since his freshman year, Mason has averaged 10 points per game while his career average is at 16 points. The Petersburg, VA native has been the leader for this Jayhawk team for a while now and Head Coach Bill Self is looking forward to this Big 12 Player of Year to lead them on the road to the final four.
Jordan Bell Small Forward Oregon Ducks
Bell helped Oregon get to the Elite Eight in last year's NCAA tournament. Scouts and fans alike will now be wondering can the Junior Forward lead his team to Phoenix as one of the last four remaining teams in the tourney? He's not the flashy player on the court but when it comes to hard work and consistency he has been a good model for his teammates with a point to rebound ration of 10:8.
Angel Delgado Power Forward Seton Hall Pirates
Delgado's season average of 15 points and 13 rebounds helped Seton Hall land a 9 seed in the tourney. A seed that is sometimes destined to produce an upset in the first round, the pirates have enjoyed the junior power forward's aggressiveness and will look forward to seeing it unleashed early in the tournament. Despite missing a late lay-up in the conference tournament loss, as solace, Delgado has been high on his team's ability to make a run in the big dance.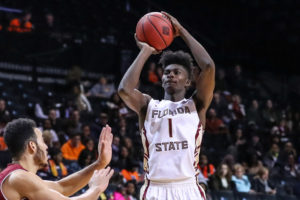 Johnathan Issac Small Forward Florida State Seminoles
Averaging 11 points and seven rebounds, Isaac has not only made a name for himself but for the Florida State Basketball program. Head Coach Leonard Hamilton generally doesn't tout super "frosh" on his roster, but with Isaacs' ceiling as an NBA player, he could create a culture for the program that rarely sees one and done's.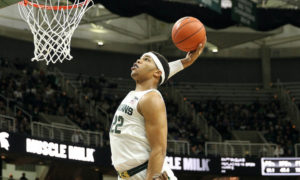 Miles Bridges Shooting Guard Michigan State Spartans
Bridges is likely a lock for completing that highlight dunk of the tourney. WHEN it happens will be based off how far his team goes in the tourney. Averaging 16 points per game, the 6'7 guard will be looking to create more highlights for his resume that will most certainly include "NBA Lottery pick"
Justin Jackson Small Forward University of North Carolina Tarheels
Jackson, the ACC player of the year has been excellent from beyond the range from the three-point line this year shooting .377. It was ultimately a last second three that crushed the Tar Heels dreams in last years Championship game, but Jackson's marksmanship from beyond the arc can lead the heavily favored Tar Heels to the National championship. Will his efforts be enough to bring the title back to Chapel Hill?
Caleb Swanigan Power Forward Purdue Boilermakers
With a massive frame at 6'9 and 250 lbs the Fort Wayne, IN native got into great shape to go on to average 18 points and 12 rebounds the whole season for the Boilermakers. He is listed as one of the heaviest players on most draft boards and with an NBA that seems to be creating more and more dual threat forwards, it will be a treat for scouts to see how Swanigan denies opponents inside the paint during the tourney.

Jayson Tatum Small Forward Duke Blue Devils
Tatum has become a fan favorite for Duke faithful. A projected top-five pick in this years draft, Tatum has helped lead the Blue Devils in one of the most entertaining runs in ACC conference tournament history. Tatum's free throw percentage is one of best among freshmen at 86%. That coupled along with his season average of 18 points will be a big factor to helping Coach K to another National Championship