Huge club banger right? One of the rap duo Ying Yang twins biggest record. Who doesn't like a club banger? Who doesn't like going to a club occasionally to dance away stress, have a good time or socialize?
The Wizards are currently 2-8 on the season and being 14th in the East standings is a big deal to the fans in Washington, D.C. All work and no play is the expectation and Wall doesn't agree with that logic. On Thursday afternoon he's shown in a video on Instagram in what looks to be a tub telling his viewers not to tell his fans that he was "relaxing with his feet up" because they "think he's supposed to be in the gym all day".  Wall also went on to talk about a photo of his jersey that altered to read "Rosebar" the popular nightclub he frequents in D.C. instead of the words "Wizards" and found it quite funny.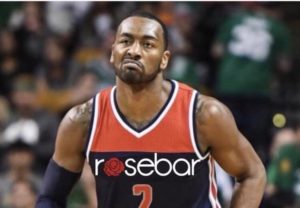 What's a guy to do? Surely after work is done or on his day off he should be able to enjoy himself right? Should the fans cut him some slack? Wall is still young and in the prime of his career he can balance both social and work life, right?