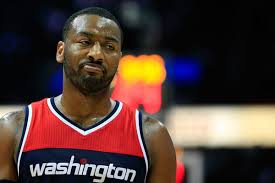 The Washington Wizards defeated the Atlanta Hawks 115-99 to win the series 4-2.  They will play their newly rival Boston Celtics foes in the next round.
Wizards Make First Half Statement
After a rough stretch after Game 1, Markieff Morris scored eight of the Wizards first 17 points.  His play gave Washington an early seven-point lead halfway through the first quarter.  After Atlanta cut the lead to one point, Washington went on 10-0 run to take a ten point lead.  After a controversial first quarter, Washington led the Hawks 30-23 after one.
Despite the refs being the most hated people on the court, Washington maintained a lead throughout the second.  Late in the second behind good defense, Washington went on a 11-0 run to take an 15 point lead.  Washington ends the quarter on a 19-4 run to take a 19 point lead into halftime.  The Wizards had a perfect first half and had to keep this momentum into the second half. John Wall, Bradley Beal and Morris combined for 50 of the Wizards 65 first half points.  Washington outscored Atlanta 24-4 in transition points, which is a key reason for their big lead.
Second Half Meltdown
Washington started the third with a three from Otto Porter, Jr. to push the lead to 22.  After that, the Hawks went on a 7-0 to bring Washington's lead down to 15.  The Wizards came back to push the lead back up to 21.  However, every time Washington made a run, Atlanta would come right back with one.  The Hawks ended the quarter on a crucial 17-5 run to cut Washington's lead down to seven going into the final period.
Wizards Put Up a Wall to Stop Hawks
At the start of the fourth, Atlanta brought the lead down to four points.  They came as close as three points but Washington would not give that lead up.  Wall hit a couple of clutch jumpers late to push their lead to nine with 3:31 left in the game.  Wall hit the Wizards last 13 points to give him a playoff career high 42 points and a team victory.  Beal had 31 and three steals.  Morris had 17 points, eight rebounds and three blocks.  Wall, Beal and Morris combined for 90 of the Wizards 115 points.  Paul Milsap led the Hawks with 31 points, 10 rebounds, seven assists and four steals.  Schroder continues his breakout playoff run with 26 points and 10 assists.