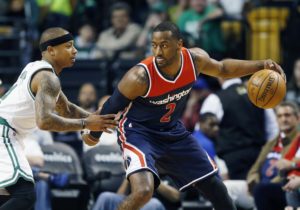 The Washington Wizards remain undefeated at home with a 116-89 win over the Boston Celtics.
Washington Comes Out On Fire
Washington came into this game knowing it was a must win.  The defended their home court with a 9-4 run to start the game.  However, Boston answered right back with a 8-3 run to tie the game at 12.    The Wizards came right back with a staggering 22-0 run to take a 22-point lead.  Boston had five turnovers during that Washington run.  Bojan Bogdanovic was clutch with nine points off the bench in the first.  Otto Porter, Jr. had a nice quarter with nine points as well.  The Wizards defense held Isaiah Thomas to one point in the first and led 39-17 after the first period.
Things got testy when Kelly Olynyk set a hard pick on Kelly Oubre, Jr.  Oubre went to the floor but got up and retaliated by knocking Olynyk to the ground.  Oubre was ejected out of the game after getting a flagrant 2.  Despite a minor distraction and tension between the two teams, Washington kept the foot on the pedal and did not let Boston back in the game.  Behind the starters, Washington outscored Boston 26-23 in the second to take a 23-point lead into halftime.
Washington Carries Momentum Into Second Half
After a great first half surge, Washington continued to pile on damage in the second half.  Behind strong play from the starters, they let it rain in D.C. against the Celtics.  They put up 32 points in the third quarter and never let Boston get even remotely close.  With strong play on both sides, Washington was too much to handle for the Celtics.  Following the Oubre incident, Brandon Jennings and Terry Rozier got into a shoving much up and down the court over the next couple of plays.  This led to, not only more bad blood, but both players being disqualified.  The starters gave the Wizards a 26-point lead going into the fourth.  With such a big lead, Scott Brooks let the bench finish the game off and seal the win.
All Washington starters were in double figures with John Wall leading the way with 24 points and eight assists.  Marcin Gortat had his best game of the playoffs with 13 points and 16 rebounds.  Porter was solid with 19 points, eight rebounds and three steals.  Bogdanovic led the bench with 19 points.  After a 53 point night, Thomas finished with just 13 points.  Al Horford led Boston with 16 points.