To evaluate a team only three games in the season is premature, however in the case of the Washington Wizards, this team should be monitored closely. The Wizards have started 0-3 after a 113-103 loss in their home-opener against the Toronto Raptors. It's not the start they wanted, but to mimic head coach Scott Brooks it's the start they have. Now with the next five games including opponents such as: Atlanta, Orlando, Houston, Boston, and Cleveland. This Wizards team could find themselves possibly win-less by mid-November if this trend continues.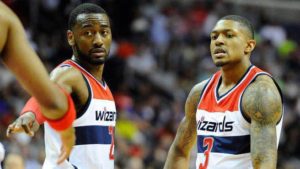 Brooks spoke to the media after Wednesday night's loss. He mentioned that this isn't a second unit nor first unit team and emphasized that they are the Wizards. However, it is the second unit that is not producing and causing the Wizards to lose games. In the lost to Toronto, the Raptors bench outscored Washington's 34-9. Points are hard to come by when your team depends on its defense to win games. John Wall mentioned that the team has not given up on that second unit, "We're not going to give up on those guys." Said Wall then he continues by saying, "we told them to play with a little more sense of urgency…we told them to play(in the game..) the way they play against us in practice." Brooks echoed that notion, but also pointed out it's imperative to find a second unit that'll be consist and produce when they're on the floor. "I have not given up on anybody on our team" said Brooks then he followed that by saying "I'm going to have to continue to search to find a second unit that's going to continue to move the scoreboard."
With the woes on the bench, Brooks may find that the depth of his team may only be 7-8 deep which is hard to compete with such a long season ahead. The Wizards may be winless but they have all vowed that this record isn't their identity. Despite being 0-3, they are confident they are better than that.
"Naw it doesn't reflect who our team is…" said Wall then went onto say, "It's not the kinda start we wanted to get off to. We worked hard in training camp. We worked hard in practice. The only way we can get out of it is go out there in win and compete. We are not a team that's going to outscore people. When we defend and rebound the ball we are a great team. Until we start doing that for 48 minutes we will stay in this slump."
It's important for a team to remain together and not be divisive when it's facing adversity. When that doesn't happen there's a bigger problem to deal with than just sleeping on defense or lack of rebounds. You'll have flashes within the team and Bradley Beal spoke about that.
"We got to stay together…we are the only ones who can pull us out of this 0-3." Beal said. Then he added, "We got to stay together as a team…the moment we drift apart that's when everything breaks down and egos come in and attitudes and everyone drifts away"
Beal also noted that they could easily be 3-0 and that the team knows what they are doing wrong.
Time is on the Wizards side as they are only three games into the season. However, it's imperative that they don't fall into the habit of thinking there's always tomorrow because these games could come back to hurt them. If they fall into that mindset then they will get comfortable losing and that's when things will go past the point of return. This second unit must learn to trust each other and adapt to this system quickly, or some guys will find themselves out of the rotation. The team as a whole must stop allowing teams to have open looks from the three-point line. The combination of bad offensive stretches and poor defensive stretches are happening simultaneously, resulting in double digit losses. John Wall nor Bradley Beal can't do it all on their own. So it's safe to say it's not time to panic, however, it is time for a sense of urgency to kick in or this will be a long November. Washington's next game is against Atlanta on Friday, November 4th and they will have the Orlando Magic the following night.