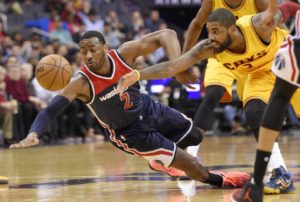 The Washington Wizards beat the Brooklyn Nets 129-108 for their second straight home win.
Washington Bench Gets Hot
The Wizards knew they were playing the team with the worst record but still came out strong.  Wall led the charge with 12 points and five assists in the first quarter.  Washington outscored Brooklyn 31-22 to take an early lead.   In the second quarter, the Wizards bench had their best start to a game all season.  Behind Washington's bench, the Wizards started the second quarter on a 28-9 run to take a 28-point lead halfway through the period.  The Wizards bench outscored the starters (33-30) for the first time this season.  Ian Mahinmi led the way with 11 points, six rebounds and four steals at halftime.  With the help from the bench, Washington went into halftime with a 21-point lead.
Wizards Defend Homecourt 
The Nets made a comeback by scoring 39 points in the third quarter, but Washington stayed hot and had 34.  The Wizards went into the final quarter with a comfortable 16-lead.  In the final quarter, Washington's bench put the nail in the coffin.  Led by the trio of Mahinmi, Brandon Jennings and Bojan Bogdanovic, the Wizards bench scored 70 of the 129 total points.  Jennings had 18 points and nine assists.  Bogdanovic had 17 points and seven rebounds and Mahinmi had 16 points and seven rebounds.  For the starters, Wall and Bradley Beal carried the load combining for 41 points.  Justin Hamilton led Brooklyn with 20 points off the bench in 23 minutes.
Next Stop Cleveland
The last time the Wizards and Cleveland Cavaliers met, they had a game of the year contest.  Although Washington fell short in overtime, they proved that they belonged in the discussion of top eastern teams.  The Wizards have not beat Cleveland this year and what better time than now.  Washington know LeBron James, Kevin Love and Kyrie Irving will most likely have good games.  Washington needs to contain the other players on the team.  This is a big statement game for the Wizards.  If Washington's bench can play like they played against Brooklyn, they could win this game.  Perimeter defense and bench play are the keys to this game.