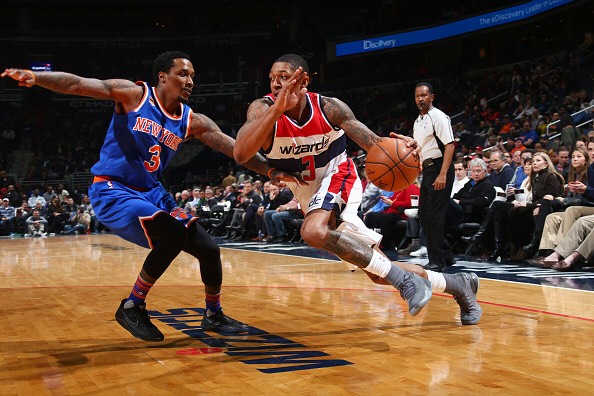 It's not about how you start, but how you finish. That's the motto the Wizards have been living by. They started this season off 0-2 and the future wasn't bright. Fast forward a few months later, and now this team has one of the best records in the Eastern Conference since the beginning of the new year. The New York Knicks were left shorthanded as Derrick Rose and Kristaps Porzingis were unavailable. With the odds stacked against them, the Knicks had no chance. As the Wizards defeated them 117-101. Extending their home winning streak to 15.
Breaking Down the Game:
Washington found themselves playing down to their competition to start off the first half. They allowed the Knicks to outscore them to start the game 13-6. Carmelo Anthony scored at will during the first half making a struggle for Washington. Anthony would finish with 26 points on 10-for-17 shooting. The Wizards would eventually step it up in the second half going on 32-22 run in the third. Bradley Beal finished the night with 28 points shooting 12-for-18 from the field. He mentioned the slow start was probably because they didn't respect their opponent.
Bradley Beal admitting the defensive effort wasn't there because they probably weren't respecting their opponent "lack of focus" #WizKnicks pic.twitter.com/XwB6Upb7CM

— Joshua A. Vinson (@TheJoshAVinson) February 1, 2017
"Derrick Rose not playing, Porzingis not playing so you think you might have an easier night," said Bradley Beal.
A Balanced Effort
All five starters were in double figures. John Wall struggled from the field. Wall shot 6-for-18 from the field and had 15 points and 13 assists. Otto Porter Jr. also experienced some shooting woes tonight despite having good looks. Porter had 10 points but didn't do well from behind the arc as he shot 0-for-3 from downtown.
However, where Wall and Porter lacked, Kelly Oubre Jr contributed. Oubre provided the much-needed spark from the bench contributing 14 points shooting 71% from the field. Oubre spoke post game and mentioned his confidence comes from letting the game come to him.
Kelly Oubre talking about letting the game come to him…when asked about his confidence #WizKnicks pic.twitter.com/GqlqCBcjhU

— Joshua A. Vinson (@TheJoshAVinson) February 1, 2017
Wizards Winning Streak:
To put things in perspective. The Wizards have now won 12 of their last 14 games dating back to early January. They've won 15 games consecutively at home. That being said, the Wizards have the best record in the Eastern Conference since December 1st. All of this success is owning to their New Year's Resolution which was being a better team. Though winning is great, Markieff Morris vows this team can and will get better.
"Don't let up!" Morris said. Then he added, "We can get a lot better."
15 straight wins at home…12 of their last 14 but Morris says, "Don't let up….we can get a lot better." #WizKnicks #DCfamily pic.twitter.com/eHey1lQURJ

— FOX Sports Radio1340 (@1340AMFOXSports) February 1, 2017
Kelly Oubre also spoke about the streak and mentioned that the fanbase has really been behind them.
Kelly Oubre: "Our fans pretty much anchoring us" #WizKnicks pic.twitter.com/oJh5SjdI3j

— Joshua A. Vinson (@TheJoshAVinson) February 1, 2017
Next Up:
Wizards will have a chance to continue to build on their success as they will play the Los Angeles Lakers. This Lakers team is under-achieving at best. At the same time, Washington shouldn't take them lightly. That game will be on Thursday at the Verizon Center at 7 pm.