2018 NFL Mock Draft:16-32
Ah! The back end of the first round of the NFL Draft is the bridge between "we know all these players" and "we don't know most of these players." Besides that, there still remains some head-turning talent after the first fifteen picks.
16. Baltimore Ravens: WR Calvin Ridley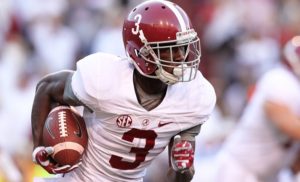 The Ravens had one of the worst receiving cores in the NFL. They lacked the ability to get open. They lacked the ability to catch the ball. They lacked…..Well, everything you can possibly think besides speed. At 6'1 190 lbs, Ridley doesn't give the Ravens the big body possession receiver many fans are hoping for but he does make up for his size with explosiveness. With great route running abilities and constantly beating corners off the first step, Ridley is just the type of receiver Ravens quarterback Joe Flacco and company needs. Although, a concern with Ridley is that almost all his stats declined over the past two years since his 1,000 yard season his Freshman year.
17. Los Angeles Chargers: OT Orlando Brown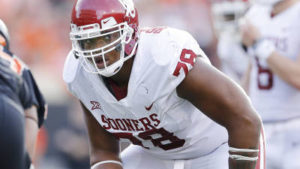 A beast at 6'8 345 lbs, Brown makes the rest of the Chargers offensive line look like tight ends. Brown is a suitable pick for the Chargers despite Russell Okung being their left tackle. Okung has only one 16-games season in his career and at 30-years-old who knows how much durability he has left as father time starts catching up. Brown struggles with speed rushers so playing right tackle to start off his career may seem to be beneficial. While being ranked the 3rd best pass blocking line in football last year, the Chargers run blocking was ranked 26th. Brown is said to be a second-round pick but with the lack of tackles in this draft his value is first-round worthy.
18. Seattle Seahawks: OT Mike McGlinchey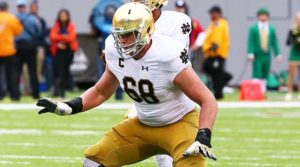 I honestly don't need to explain the Seahawks offensive line situation anymore than the fact they were second to last in run blocking and 26th in pass blocking. The great thing about the 6'8 310lbs left tackle is that he excels in run blocking. But, just like Brown, he struggles against speed rushers. McGlinchey was named a first-team All-American after this past seasons with Notre Dame. For a team with offensive line woes, an All-American offensive tackle doesn't seem like too bad of a pick now does it? And watch the Seahawks not even draft him because this is a mock draft and 99.9% of the time these are completely wrong.
19. Dallas Cowboys: CB Joshua Jackson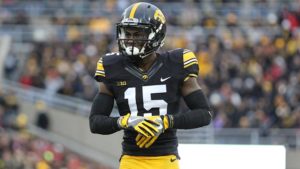 I have Jackson going to the Cowboys because they desperately need corners. The Cowboys had the fifth least amount of interceptions (10) and had the 7th highest opposing passer rating (94.6). Their top cornerback is Orlando Scandrick, a 31-year-old who was given an awful 41.5 PFF grade that ranked him as the 113th corner in the league last season. They may be looking to add Jackson in with the team's other younger cornerbacks in Anthony Browns and Jourdan Lewis, both of which ranked higher than Scandrick. A benefit about Joshua Jackson is that he is a zone coverage corner and this fits perfectly with the Cowboys 4-3 zone style defense. Jackson would also be the tallest among Cowboys cornerbacks (6'1) giving him an edge the others don't have against opposing receivers.
20. Detroit Lions: RB Derrius Guice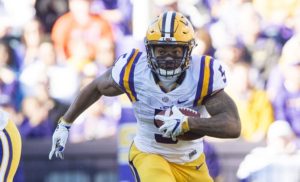 If Jesus Christ came down to Earth from heaven and gave the Lions a runningback himself that poor guys would still up either hurt, a bust or retire within five years because he's on the Lions. But in the meantime, I see the Lions going with Derrius Guice. The Lions ranked dead last in rushing last season. There should really be no more reason to draft Guice. The LSU prospect is coming off back-to-back 1,000+ yard yard seasons while also reaching the endzone 26 times on the ground. There's really not much else to talk about with him and Lions. It's like mixing ramen noodles and hot sauce. It's the obvious choice that is so desperately needed.
21. Buffalo Bills: QB Lamar Jackson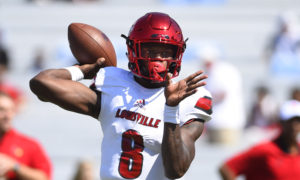 I have Lamar Jackson falling to the Bills because he's a spitting image of Tyrod Taylor with more athleticism. It seems the Bills are the team that are always on the threshold of becoming a serious threat to any team not named the Patriots but, they always come up just short. This by far and large because of a lack of a consistent quarterback. Has Tyrod done well for himself after leaving the Ravens? Yes, absolutely. But he's still yet to get the Bills over that threshold. Jackson won back-to-back ACC Player of the Year and ACC Offensive Player of the Year awards (2016-2017) for posting incredible stats throwing for almost 4,000 yards and rushing for just over 1,600. That type of athleticism is just what the Bills need to lead their offense. If they benched Tyrod for the legendary Nathan Peterman then I'm sure Jackson can find his way into a starting role.
22. Buffalo Bills: DE Marcus Davenport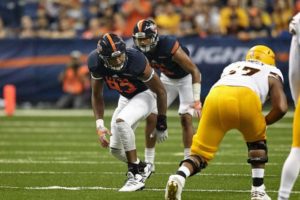 I wouldn't be surprised to watch the Bills draft Davenport and Jackson but switch the order in which they draft them. I will be livid. Anyways, Davenport could honestly be the best edge rusher in this entire draft. Coming out of Texas-San Antonio, Davenport was just a 2 star recruit going into college and now he's a first-round talent. He is a physical specimen standing at 6'7 255 lbs. As a matter of fact, he packed on 30 pounds between his sophomore and senior season. Davenport lacks consistency but his explosiveness when he does make plays comes only second to NC State's Bradley Chubb. Another positive about Davenport is that he uses his strength and size to also stop the run. While some may look at 22nd overall being way too low for Davenport, which it probably is, a few teams will surely pass him for the fact he played at Texas-San Antonio. Guarantee you if he played at a bigger D1 college he'd be a top-10 prospect.
23. Los Angeles Rams: OG Billy Price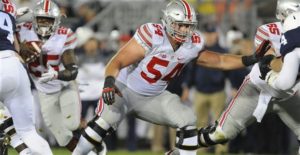 This pick isn't going to be one fans remember. But Rams fans will possibly soon get to know his name real well, especially if he pans out. I had Price going to the Rams because the team needs another guard. While left guard Rodger Saffold and center John Sullivan both ranked top-10 at their respective positions, Rams right guard Jamon Brown ranked 38th in the league for right guards. With Whitworth, Sullivan and Havenstein at right tackle, the All-American guard could be the piece that solidifies the Rams offensive line for a Super Bowl run. Price also offers versatility having experience at both center and guard. Price is a late first-round to early second-round, projection so I wouldn't be surprised if Price goes late. But with the lack of pro-ready guards in this draft, Price will be a valuable pick.
24. Carolina Panthers: S Ronnie Harrison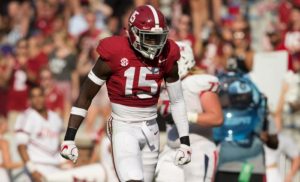 A 6'3 free safety who can cover down the field in man-to-man coverage while also being an extra defender in the box? Harrison is the perfect safety to go alongside Mike Adams for the Carolina Panthers defense. While he only had one interceptions last season, that one came in the clutch near the endzone in the game against Texas A&M. Harrison also recovered the onside kick in the same game to solidify the win. In 2016 he had 55 tackles, seven passes broken up and six interceptions. Harrison also has experience at cornerback as well making him even more valuable to a Panthers pass defense that ranked 18th in the league last season.
25. Tennessee Titans: ILB Malik Jefferson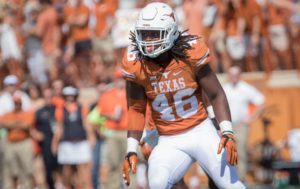 I think it's going to be one of those picks that leaves fans wondering, "Why?" While Malik Jefferson possesses NFL-ready run stuffing and solid zone coverage capabilities, there isn't a place for him to really start in the Titans linebacker core with Brian Orakpo and Derrick Morgan on the edges with Wesley Woodyard and Avery Williamson in the middle. All four are well established linebackers. Not to mention Woodyard and Williamson are both under contract for a few more years. At this point, I think the Titans will fall into "draft the best available player" mode. But his 110 tackles, ten of which for a loss, can't be ignored either.
26. Atlanta Falcons: DE Harold Landry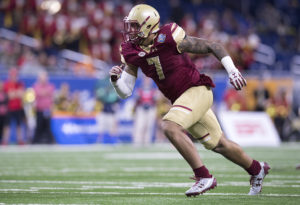 Despite other draft boards having Landry going early first-round, his ankle injury this past season is a cause for some concern. While it's not an ACL tear, it is still an injury that kept him sidelined for the back end of Boston College's season. However, his stats for the 2016 season are hard to overlook. While he may have only made 50 total tackles in 2016, 22 of them for a loss, he also led the nation that year with 16.5 sacks. Having Landry on the opposite side of a healthy Vic Beasley would severely improve a Falcons pass rush that ranked 13th in sacks last season. Now that Landry is a father he may have some extra motivation as well
27. New Orleans Saints: DT Maurice Hurst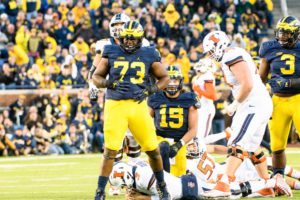 For a 6'2 280 lbs defensive tackle, some might say that Hurst is undersized in today's day and age of defensive tackles. Yet, he still managed to record 10+ tackles for loss in back-to-back seasons (2016-2017) and even managed to get five sacks in those seasons as well. The Saints current defensive tackles, Sheldon Rankins and Tyeler Davison, both had solid a solid 2017 season. So Hurst may seem like a question mark for the Saints but perhaps at 27th overall they are going for the best available. The Saints ranked 2nd in offense but 16th in defense this past season so drafting a defensive player with their 27th overall pick is ideal.
28. Pittsburgh Steelers: CB Isaiah Oliver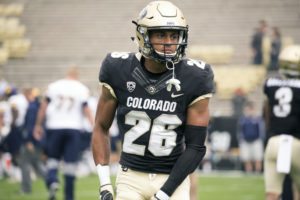 The Steelers did ranked 5th in the league in passing defense this past season. But that stemmed from their pass rush that ranked 1st in the entire league. Their secondary gave up the third most 40+ yard gains and tied for ninth most 20+ yard gains allowed. And while Joe Haden and Artie Burns are a solid duo of starting corners, the Steelers need someone to fulfill the slot role. And after a piss poor year from both Coty Sensabaugh and William Gay, Oliver's 6'1 200 lbs frame could lift the Steelers secondary. Oliver could also aim to take Haden's role once his contract is up in 2020. Oliver will be nearing the end of his rookie contract at this point and with the physicality to cover bigger receivers he could be eyeballing his chance to shine in this league.
29. Jacksonville Jaguars: WR James Washington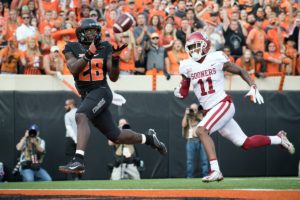 If Allen Robinson doesn't re-sign with Jacksonville then Washington is the perfect man to fill his spot if he doesn't go earlier in the draft. This draft class is stocked with wide receiver talent so seeing Washington go this far down in the first round wouldn't surprise me. Although, his three straight 1,000+ yard seasons with 10+ touchdowns in each of those seasons would leave some scratching their had as to why he dropped this far. His 6'0 height may be the reason. But, his durability is phenomenal. He didn't miss a single game since his sophomore year at Oklahoma State. Even if the Jaguars sign Robinson back, they still might go with Washington because Bortles needs all the help he can get.
30. Minnesota Vikings: RB Ronald Jones III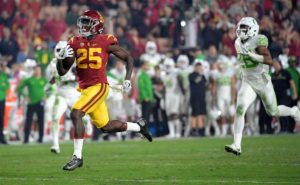 I know Vikings fans love Latavius Murray and hope to sign back Jerick McKinnon, which is probably a smart thing to do. But if they decide to let McKinnon walk for some reason, Jones III is the reasonable selection with the 30th overall pick. The 6'0 200 lbs runningback is coming off back-to-back 1,000 yard seasons with 19 touchdowns on the ground this past season. In fact, Jones almost had three 1,000 yard seasons after coming up just 13 yards short his freshman year. Jones was also 263 yards away from finishing the 2017 season with 2,000 yards from scrimmage. Jones' one-cut style could fit in perfectly with the Vikings behind Murray. If the Vikings don't sign McKinnon back then Jones could possibly be their threat out of the backfield on passing plays as well.
31. New England Patriots: DE Ogbonnia Okoronkwo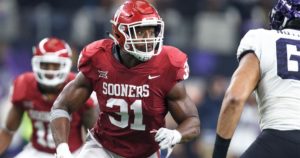 This seems like the typical Patriots draft pick. Hardly anyone knows who Okoronkwo is yet the Patriots will find this diamond in the rough. Of Okoronkwo's 75 total tackles this past season, 17 of them were for a loss. He also managed to sack opposing quarterbacks eight times this past season. His 2017 stats were pretty similar to his 2016 stats. In 2016 he played linebacker instead of defensive end yet still recorded 71 total tackles, 12 of which were for a loss, and nine sacks. This past season Okoronkwo was also named Big 12 Defensive Player of the Year as a defensive end. So not only does this 6'1 240 lbs have the stats, he also has the versatility of playing more than one position on defense. Again, this pick has Patriots written all over it.
32. Philadelphia Eagles: DT Da'Ron Payne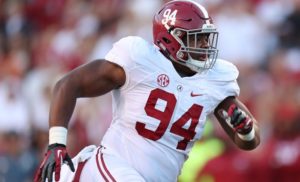 Payne is nothing statistically special. But he's a 6'2 308 lbs defensive tackle out of Alabama with ferocious run stuffing ability. The Eagles were the number one team against the run this past season so drafting Payne may seem like a head scratcher but the kid is only 20. So being behind Fletcher Cox and Timmy Jernigan on the Super Bowl Champion Eagles isn't the worst thing to happen for Payne coming out the draft. But will he ever see the field enough to prove his worth? That's the biggest question mark. Hey, it's a mock draft. I'm more than likely going to be wrong on every single one of these so lets just take each pick with a grain of salt.