2018 NFL Mock Draft: 1-15
The 2018 NFL Draft is stocked with talent. From quarterbacks to wide receivers and defensive ends to secondary, there's no denying we will be witnessing future stars in this year's draft.
But until the actual draft, let's have some fun and make some predictions that probably won't even happen.
1. Cleveland Browns: RB Saquon Barkley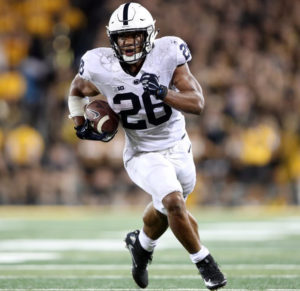 There isn't much left to say about Barkley that hasn't already been said. Barkley is undoubtedly the most well rounded offensive talent in this year's draft. While the Browns have their play maker Josh Gordon officially back, drafting Barkley will quickly make their offense much better. Barkley has put up three straight 1,000+ yard seasons and has rushed for 18 touchdowns each of the past two years. The dynamic runningback showcased his receiving ability setting a career high in receptions (54), receiving yards (632), and yards from scrimmage (1,903). Honestly, it would be such a typical Browns move if they don't take Barkley. If they don't then the Giants front office will be going nuts.
2. New York Giants: QB Josh Rosen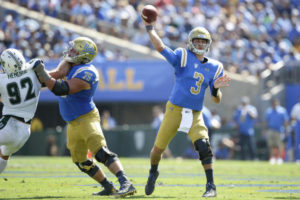 Rosen even spoke out earlier this off-season that he basically wants no part of the Cleveland Browns and that he much rather be part of the Giants organization. With Eli Manning's career coming to a near end, the Giants should definitely be looking for their future successor. Rosen threw for 3,756 yards this past season with 26 touchdowns, ten interceptions, and a 62.6% completion percentage. I would say his 6'4 height is also appealing but outside of Baker Mayfield almost every first-round talent quarterback is around the same height. Rosen's scouting report is a different case depending which website you go to. Some have him as the draft's top quarterback and others don't. Fans should know how these things go. But I do find it coincidental how Rosen is complaining about a team drafting him just as Manning did when he was drafted. Maybe Rosen is the perfect fit for the Giants in that case.
3. Indianapolis Colts: DE Bradley Chubb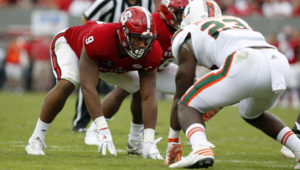 Honestly, this pick is a complete toss up. Chubb is arguably the most polished defensive lineman in the entire draft. The Colts have so many problems on both sides of the ball so they really can't go wrong with who they choose with this pick. But the Colts defense was 31st in the league in sacks so Chubb would be a great addition for the Colts. Chubb won ACC Defensive Player of the Year this past season after wracking up 73 total tackles (23 of them for loss) and ten sacks. In 2016 Chubb posted similar stats with 56 total tackles (21 of them for loss) and, again, ten sacks. And at 6'4 275 lbs Chubb is an absolute beast. A trade back option could definitely be a possibility to acquire more picks and gain more young talent but Chubb is undoubtedly a top-5 pick.







<![endif]-->