The Baltimore Orioles (8-20) barely took the match-up in the fourth week of the 2018 Beltway Series between the Washington Nationals (12-16) to go 1-3.
The Baltimore Orioles finally managed to edge out the Nationals in week four to grab their first win in this season's edition of the Beltway Series. But Orioles fans shouldn't be celebrating yet. While the Nationals aren't anything special themselves at the moment they are at least within single digits of first place in the NL East. Meanwhile, the Orioles are one of five teams remaining with single-digit wins and are 12.5 games back of being first in their division, which is the worst in the entire league.
Baltimore Orioles
The Orioles hitting really stepped it up in week four with their hitting. The team's .260 batting average in week four ranked them 11th in the league, the highest they've been all season. And while it doesn't seem like much, the Orioles also had five stolen bases in week four as well. That's four more than they had in week three.
Pitching improved somewhat compared to week three but not by much. The staff seems to either have a problem with reaching 50+ strikeouts or they just love the number 49 because this is the second week in a row the Orioles pitchers have struck out 49 opposing batters. A good side note is they still managed to keep the walks down to just 13, which was 5th least in the entire league in week four.
Still, the Orioles fans are waiting for this lineup to explode. And even though they lost third baseman Tim Beckham to an injury, the team is still waiting to catch fire and at least try and move on up to third place in the AL East. Orioles fans can only hope, right? For now, let's enjoy their bright spots from week four.
Bright Spots
We can all wonder how Chris Tillman is still in the starting rotation. Well, being on one of the worst teams in baseball is probably the reason he is still one of the Orioles starters. Luckily for them, he pitched an absolute gem of a game for the team in week four against the Tigers giving up just one hit through seven innings pitched.
This game brought flashbacks of the Tillman the Orioles once used to call their ace pitcher. And while he did face off against a Tigers team that ranks 18th in hitting this year, it's still great to see Tillman showing signs of his former all-star self again.
And according to Tillman, catcher Caleb Joseph deserves a lot of praise for his shutout.
After Tim Beckham's injury, Alvarez stepped in a major way this past week for the Orioles. His four home runs, two each in two games, and six runs batted in paved the way for the Orioles in their two wins against the Tigers.
While Alvarez's four home runs were tied for the most in the majors last week, his 1.000 slugging percentage was tied for the best alongside division rival outfielder Kevin Pillar. Alvarez's .294/.400/.1.000 stat line is the best he's hit this entire season which bumps up his season stat line to .237/.357/.576. He is now second on the Orioles in home runs, runs and runs batted in.
Washington Nationals
Despite only winning two out of six games in week four, the Nationals hitting numbers saw a nice increase from week three, just not as big as the Orioles. And while their pitching was still solid the team only managed to come out with two wins. This is in part as to why the Orioles got the edge over the Nationals this week.
The Nationals still top the Orioles in the actual standings, though. They have double-digit wins (12) and are fourth in their division while only remaining six games out of first place. So one week can seriously change the whole division if the Nationals bats get going. The team ranked 13th in hitting and 16th in pitching in week four so improvement is obviously needed to take week five.
But, like every week, the Nationals did have some players to be happy about.
Bright Spots
Kendrick had absolutely amazing week four. His slash line of .450/.457/.900 this past week had Kendrick batting cleanup for the Nationals. Kendrick also hit two home runs bringing in four runs. The Nationals second baseman is now batting a solid .299/.330/.526 on the season with four home runs and 11 runs batted in. Even at 34-years-old the veteran Kendrick is still proving to the league he can play some ball.
But Kendrick wasn't just making plays with his bat this past week either.
2. Trea Turner
While veterans like Kendrick maintain their level of play, younger guys like Trea Turner start to shine for the Nationals. And while he didn't post the slash line Kendrick did, Turner still managed to have a good week coming second on the team with five runs batted in. His .385/.448/.500 slash line just gave him the edge over teammate Matt Adams who also had a very productive week. But something worth noting about Turner is that his four steals in week four put him atop the MLB with nine stolen bases total on the season. But manager Davey Martinez wants Turner to be even more aggressive.
Both of these teams need to start winning more games. And yes, I know you just read to yourself, "No kdding, Captain Obvious?" The bottom line is these teams come out each week with losing records and don't dominate in any stat department. The Nationals are mediocre at best for right now and the Orioles are one of the worst teams in baseball. It's no coincidence how the Orioles "0-21" anniversary was yesterday to top off week four. But the Orioles drastic improvement in their hitting this week gave them the edge over the Nationals.
It's now a full month into the season and neither of these teams have shown winning potential. Yes, there are five months to go and anything can happen. Remember how the Orioles led the AL East last season until September rolled around and they quickly became the worst team in the division? Pepperidge farm remembers. Orioles fans may not want to but they do.
As for the Nationals, this is a team that many, myself included, had going to the World Series this season. But there's not much excitement going on in Washington besides the Capitals right about now so something needs to start a fire.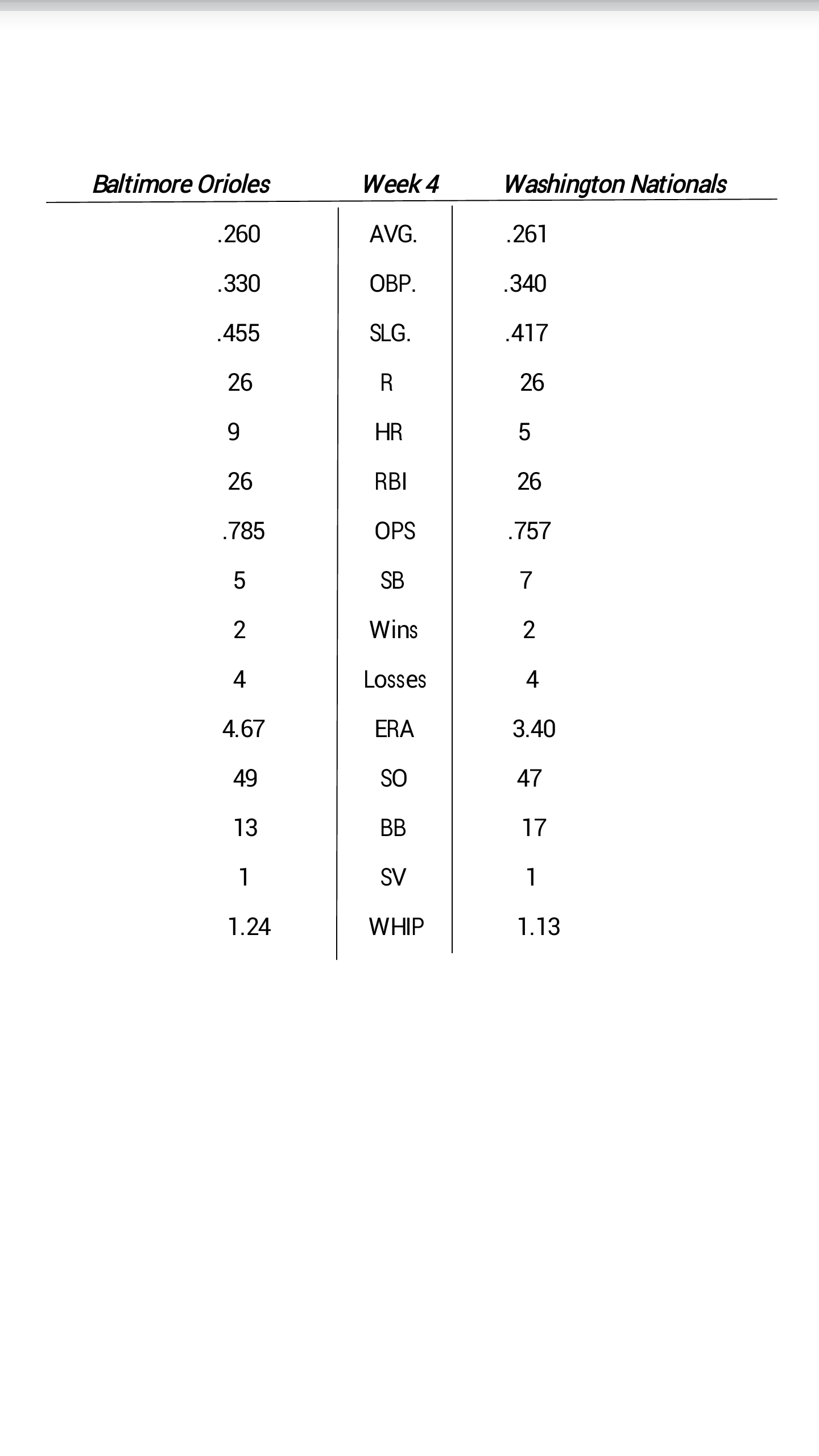 Follow Eric on Twitter @EHimmelheber
More predictions at Doc's Sports.